Ed Schultz Goes After Hannity for Anti-Obamacare 'Lie,' Ed Show Panel Goes Off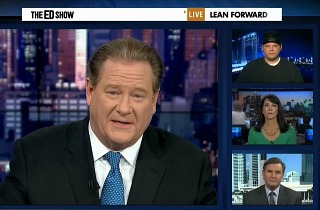 MSNBC host Ed Schultz attacked Fox News Channel host Sean Hannity for drawing what he called an incorrect implication that Consumer Reports warned Americans to "stay away" from HealthCare.Gov "for good." After correcting this impression, Schultz's panel proceeded to attack Hannity for his ratings and his recent run-in with an Affordable Care Act call center operator.

"They're telling people stay away from the website," Hannity said of Consumer Reports' review of HealthCAre.Gov.
"Really?" Schultz reacted. "Consumer Reports never told Americans to stay away from the website for good, as Hannity implied." He noted that the consumer advocacy publication requested that political pundits not use their review of the site to advance a political agenda and accused Hannity of ignoring this admonition.
RELATED: Hannity Pledges to Recoup Salary for Obamacare Operator Who Was Fired for Talking to Him
"We see this all the time with Fox News," he added. "When the facts aren't in their favor, Fox completely distorts them or runs stuff just to fit their own agenda."
"Sean Hannity spews lies – that's really nothing new," Schultz continued. "His ignorance and disregard for public interest could actually prevent people from enrolling in potentially life-saving programs."
Liberal radio host Mike Papantonio accused Hannity of being "desperate to create drama."
"When you don't have substance, when your ratings are tanking," he added, "you start playing to the Honey Boo-Boo crowd — the lowest hanging fruit available."
"Even Roger Ailes has figured out Storage Wars has higher ratings than Sean Hannity," Papantonio continued. "So, someone is advising him, 'You have to say this crazy stuff.'"
"I'm shocked, shocked that there is dishonesty going on on Fox News," liberal radio host Stephanie Miller said. "They're trying to deliberately scare people away from the exchanges."
"Sean Hannity is doing a real disservice to real people," she continued.
Turning to Hannity's recent encounter with an Affordable Care Act call center operator who was fired after her conversation with Hannity was broadcast. The Fox host subsequently offered her a year's salary and a job for her trouble.
"Do people buy this garbage," Schultz asked Occupy Wall Street protester Jesse LaGreca. "This must be the first person he's ever been concerned about getting a job all of a sudden."
"I think it's hilarious these guys constantly accuse Obamacare of being a job-killer and then there are lies about Obamacare actually kill someone's job," LaGreca added. "I only wish there was some way we could make every millionaire conservative [who] cost [an] American a job have to pay that person's yearly salary out of their own pocket."
Watch the clip below via MSNBC:
[Photo via screen grab ]
— —
> >Follow Noah Rothman (@NoahCRothman) on Twitter
Have a tip we should know? tips@mediaite.com