Ed Schultz Guest: CNN Interview Walk-Off Shows Ron Paul 'Not Ready To Be The Front-Runner'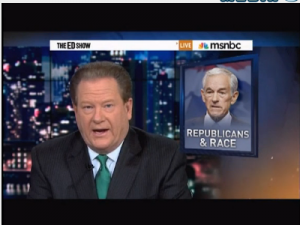 On Thursday, MSNBC's Ed Schultz reported on how we're taking a "closer look" at Ron Paul's past, particularly when it comes to these newsletters you've probably yet to hear about.
Schultz's pointed to Paul's most recent CNN interview, during which the candidate told Gloria Borger that he did not write racist material contained in various newsletters bearing his name, and that he "disavows" their content.
RELATED: Rep. Ron Paul Gets Irked By Newsletter Questions, Walks Out Of CNN Interview
Schultz then mentioned a recently re-discovered interview Paul had given to C-SPAN back in 1995, where he described starting a "a political type of business investment newsletter" that covered, among other topics, "a lot about what was going on in Washington."
RELATED: Flashback! Rep. Ron Paul Discussed His Newsletters With C-SPAN In 1995
Schultz noted that Paul likely knew the contents of / topics covered within these newsletters, and has written some of their articles himself, as Paul himself has shared. He brought on Lehigh University's Dr. James Peterson to discuss whether the racist opinions espoused in these newsletters — particularly those directly attributed to Dr. Paul himself — should disqualify him from continuing to run. Peterson feels they should, adding that the newsletters contain not only racist ideology, but also opinions that are sexist, anti-Semitic and homophobic. What you've said or done in the past, Peterson said, has bearing on what you will do in the future, and he believes Dr. Paul should come forward and "explain" these newsletters, particularly since he feels Paul knew more about their contents than he's let on so far.
Furthermore, he feels that Paul's decision to walk away from Borger shows he's "not ready to be the front-runner" in this race. Not mentioned was the fact that Paul had given CNN an interview the day before, and had referenced this when responding to Borger's line of questioning.
Have a look, via MSNBC:
Have a tip we should know? tips@mediaite.com