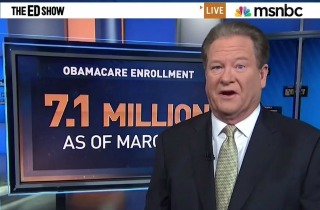 MSNBC host Ed Schultz said on Monday that the figures relating to the number of enrollees in the Affordable Care Act released by President Barack Obama's administration had better be accurate, or else it would be politically "disastrous for the Democrats." He said that, if that were the case, the president would be a drag on Democrats in both 2014 and 2016 and the future of the ACA will be in doubt. However, the MSNBC host claimed, he is positive that the number of ACA enrollees is even greater than 7.1 million.
"If this number is wrong, if there really aren't 7.1 million people that have signed up, what does that mean?" Schultz asked. "It means it's disastrous for the Democrats across the board, because they are the ones who have ushered in health care reform in America."
RELATED: Obama Marks Enrollment Victory: Obamacare 'Is Here to Stay'
"Health care reform will be, I think, in serious trouble if this number not correct," Schultz continued. "President Obama's legacy will be terribly tarnished, and the entire Democratic Party could be in real danger of losing elections, not just this midterm."
"You think after this midterm that Obamacare is all done with?" he added. "No." Pointing to an image of Obama, Schultz said that the president would damage Democrats chances of winning elections.
"Who will run with President Obama if that number's not correct?" Schultz asked rhetorically. "Politically, nobody's going to want to stand with President Obama in the next two election cycles if the numbers aren't right."
Fortunately, Schultz claimed, the number of enrollees is correct. "The bottom line is we still don't know the number, but we're all pretty confident it's north of 7.1 million," he concluded.
Watch the clip below, via MSNBC:
[Photo via screen grab ]
— —
> >Follow Noah Rothman (@NoahCRothman) on Twitter
Have a tip we should know? tips@mediaite.com