Ed Schultz Interviews Melissa Rakestraw, Woman Who Stood Up To Screamin' Joe Walsh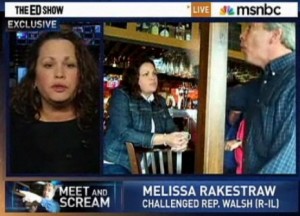 Congressman Joe Walsh (R-Ill) recently caused a stir with his unhinged performance at a small gathering of constituents, but the real star of that viral video hit was Melissa Rakestraw, a Walsh constituent who went toe-to-toe with him, and wouldn't be shouted down. MSNBC's Ed Schultz interviewed Rakestraw on Thursday night's The Ed Show,  and the feisty letter carrier shared what Walsh told her when he was done screaming.
High-strung Congressman Joe Walsh has come under fire for his screaming tirade at a small meeting of constituents in an Uno Bar & Grill in Gurnee, Illinois, in which he threatened to eject one constituent if he didn't listen. The most impressive part of the video, to me, at least, was the way a women identified as "Melissa" pushed back at Walsh, even as he screamed in her face, delivering him a healthy dose of reality. Her tough calm in the face of Walsh's barrage was a wonder to behold. Ms. Rakestraw pushed back against Walsh's false claim that the government is "propping up" the USPS, which is entirely self-funded, explained that the government is actually hamstringing the USPS with an unreasonable pre-funding mandate, and gave him a lesson on the public service obligations of the Postal Service. It was a stand up and cheer moment for public workers who are tired of relentless attacks by Republican politicians.
As it turns out, the working-class hero of Walsh's tantrum is Melissa Rakestraw, a 42 year-old letter carrier for the US Postal Service, and she appeared on The Ed Show Thursday night to expand on her discussion with Walsh, and to share what happened outside the camera's range.
Schultz asked her if she was intimidated by the congressman, to which she replied, "No. Actually, I wasn't. You know, the only thing that scares me about Joe Walsh is his anti-worker ideologies, and his total disregard for facts."
Ms. Rakestraw went on to explain, once again, the reason you can't simply replace the USPS with private carriers like UPS, zinging Walsh's constitution-loving bona fides in the process.
"The Post Office, first of all, was established by the Constitution," she said, adding "I know Joe claims to be a big fan of the Constitution. and because of our charter, we are obligated to serve all the citizens of the United States. and Fedex and UPS don't do this. 25% of their deliveries are finished by the postal service."
She concluded by sharing what the camera didn't pick up: another example of Republican contempt for public servants. "At the end of the discussion, he came up to me, and he was face to face. The camera was either off or it couldn't pick up the volume because he was speaking very low, just so that I could hear it. And earlier I had told him if he supports Darrell Issa's bill to reform the Post Office that 200,000 jobs could be lost. 20% of those employees are veterans. and Mr. Walsh came up to me. He said, 'I do not care about the loss of public sector jobs.'"
That's a message that's not likely to resonate with many Americans, who generally don't like to see anyone thrown out of work, and appreciate the minor miracle that is the USPS.
Here's the clip of Schultz's interview with Melissa Rakestraw, from MSNBC:
Have a tip we should know? tips@mediaite.com