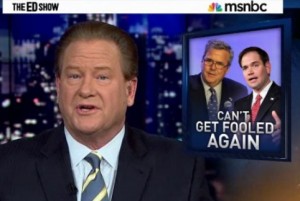 Former Florida Governor Jeb Bush has been making news this week by refusing to rule out a 2016 presidential run, and for an IHOP's worth of flipping on the issue of immigration reform. On Tuesday night's The Ed Show, host Ed Schultz gave Jeb Bush a preview of what he can expect for the next few years, attacking him as a Mitt Romney-style flipper and as the intellectual successor to brother George W. Bush. As time goes by, liberals will have to decide on one or the other of these themes, which could offer Mitt Romney a shot at a rare win.
Throughout the 2012 presidential election, Jeb Bush was one of several Republicans whose absence from the field was lamented, even by liberals, as a potentially moderating influence over that party's never-ending string of crazy frontrunners. Now that he's a good bet to join the 2016 race, however, it's apparently time to pivot on Jeb, and fortunately, Jeb is cooperating by doing some pivoting of his own.
As Ed notes, Jeb Bush supported a path to citizenship for undocumented immigrants last year, even as he was writing Immigration Wars: Forging An American Solution, in which he takes a position against a pathway to citizenship. In January, Bush and co-author Clint Bolick penned a Wall Street Journal op-ed that explicitly endorsed a pathway to citizenship, but then, earlier this week, Bush came out against a pathway to citizenship in an interview with The Today Show.
He then seemed to try and split the difference, telling Morning Joe host Joe Scarborough that "Going forward, if there is a difference, if you can craft that in law where you can have a path to citizenship where there isn't an incentive for people to come illegally, I'm for it," but then added "I don't see how you do it, but I'm not smart enough to figure out every aspect of a really complex law."
"A Bush admitting he is not smart. Interesting," Ed said, then instantly set his phaser on Mitt. "Where is Romney's Etch-a-Sketch when you need it? Looks like Jeb could definitely use it right now."
Of the two attacks, the Romney line is the sure winner, because while Bush fatigue is built right into Jeb's name, comparing him to his brother can only make Jeb look good. Given the rapidly-shifting ground under Republican politics, this won't likely be the last time Jeb has to recalibrate his message over the next four years, or even on this particular issue. In an effort to create daylight between themselves and President Obama, Republicans now seem committed to littering the pathway to citizenship with as many obstacles as possible. Right now, I think they're up to requiring undocumented immigrants to pay back taxes, pay a fine, crawl naked over broken glass, then fistfight a school of piranha.
Here's the clip, from The Ed Show:
Follow Tommy Christopher (@TommyXtopher) on Twitter.
Have a tip we should know? tips@mediaite.com