Ed Schultz: My Respect For Bachmann Is 'Through The Roof' For Standing Up To 'Right-Wing Hit Job'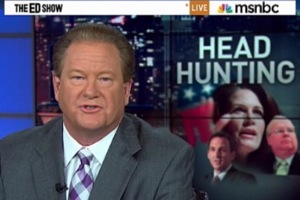 Last night, in an unlikely occurrence, liberal Ed Schultz strongly defended conservative presidential candidate Michele Bachmann from the recent "right-wing hit job" on her, and even admitted that he now respects her immensely for not being bullied by the establishment of the Republican party. The reported allegations that Bachmann "pops pills like candy" and suffers from incapacitating migraines was, according to Schultz, a non-story "so heavy on insinuation and light on specifics."
Schultz admired Bachmann's acknowledgment of the story and her immediate response to it:
"Michele Bachmann, I do not agree with you on anything. And I can say that my respect for you has gone through the roof in the last 24 hours. You were clear, concise, you stood up to it and you weren't bullied by these people. The Republican establishment obviously fears this candidate."
Instead, Schultz targeted attacks by Karl Rove and presidential candidate Tim Pawlenty on Bachmann as representing the "dirty pool hall of the Republican party." Schultz suspects Rove questions Bachmann's fitness because he will never support a Tea Party candidate, while Pawlenty is merely a "buzzard circling a carcass" who is too afraid to challenge Mitt Romney.
Overall, Schultz's full-throated defense of Bachmann here, someone who he very clearly is no fan of at all (check out his recent description of Bachmann as "vile" and a "phony"), is proof that Schultz seems to be developing a desirable level of unpredictability that will continue to contribute to his show's success.
Watch the clip from MSNBC below:
Have a tip we should know? tips@mediaite.com