Ed Schultz: Not Extending Unemployment Benefits Will Lead U.S. Into Third World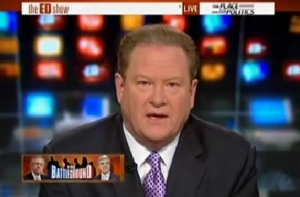 Ed Schultz wants to be clear. He is NOT running for office. But if he were a Senator, he "would be absolutely screaming in front of every camera (he) could find," apparently to rally support for extending unemployment benefits. For if they aren't extended, according to the MSNBC host, America is likely to become a third world country. Oh, annd he lays the blame at the feet of his compatriot Democrats. Say what?
The transcript of the strange, passionate and semi-unhinged rant follows this video clip (h/t Breitbart.tv):
I can tell you what the problem is, it's with the Democratic party. It's not just Ben Nelson who voted against extending unemployment benefits. it's Harry Reid. I have never in my life seen a Senate Majority Leader all of sudden become so obscure and isolated.

Harry, you are blowing it, buddy. You've got t to get out there a fight for these folks. He could reinvent himself with his authority on this issue. and come out passionately f the American people in need. Grab the moral high ground because it is a moral issue and let the American people see just who the Republicans are…and they are on the wrong side of this issue again and again.

No, I'm not running. But if I were, if I was a Senator now, I would stand up and I would be absolutely screaming in front of every camera I could find. It is unconscionable what we are putting these Americans through. And I will tell you this. This is how third world countries get started when you started ignoring people. I can't understand why the Democrats aren't pounding on this. And i think it will cost them in the midterms if they don't do something drastic about it.

Joining me now is Chuck Rocha, a union political consultant and the head of solidarity strategies. Chuck, if the congress and the white house, if they're getting the same e-mails I'm getting and if they're having the same conversations with Americans across the country that I had on a a seven city tour. I have ask, what in the hell are they doing? How can they ignore these Americans? Where this is going down the road of a third world country. This is the issue what we're going to do with the unemployed. tell me if I'm wrong.
Have a tip we should know? tips@mediaite.com
Colby Hall - Founding Editor