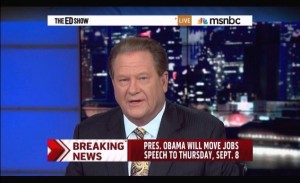 MSNBC's Ed Schultz devoted some time Wednesday evening to, naturally, the kerfuffle between Barack Obama and Speaker John Boehner on the scheduling of the President's upcoming jobs speech.
"The President has caved," said Schultz, driving home the notion that the White House's originally requested date — which just so happened to be the same day as a GOP presidential debate — is part of a high stakes game between Democrats and Republicans. (Or a "childish squabbling pissing match," if you're so inclined.) He continued, highlighting several Republicans' take on Obama and jobs.
"Boehner and the Republicans have been hounding Obama to lay out a jobs plan for months," he said. "Now the very same people who want President Obama to keep his powder dry so that Rick Perry can have the spotlight to say stupid stuff like this… [Cue audio of Perry's definition of dumb. Hint! It involves Obama.] Michele Bachmann mocked the President about the timing of his speech during a stop in Des Moines, Iowa this afternoon. [Cue some intern being terminated for screwing up the clip.]"
Schultz surmised that moving the date of the speech would make liberals "furious," while listing instances where Obama and Democrats promoted job growth. Republicans, as he sees it, fought Obama every step of the way, up to and including fighting the scheduling of his jobs speech. "They don't give a damn," he announced, "nor do they respect the President of the United States or the office." What's more "they don't give a damn about you working folks" watchin' Ed on TV.
Have a look, via MSNBC:
Have a tip we should know? tips@mediaite.com