Ed Schultz Reacts To Walker Victory: 'Could Very Well Be Indicted In The Coming Days'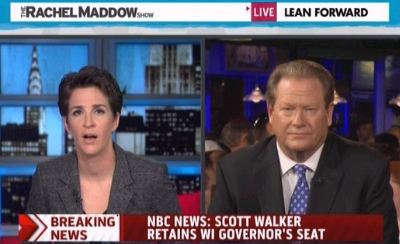 Ed Schultz broadcast to a silent room in Wisconsin as he weighed in on NBC News calling the Wisconsin recall election for Republican Gov. Scott Walker. "There is no embarrassment in the loss," said Schultz. "This was a great night for democracy because the turnout was terrific and I think Americans have to celebrate that." He did say, however that Walker could face a criminal indictment that could invalidate the outcome of tonight's recall election.

RELATED: Republican Scott Walker Wins Wisconsin Recall Election
"In many respects it is to be expected, considering how much money was spent in this race," said Schultz. He said that there were many ballots left to count, but did not dispute his network's call of the recall election.
"It's damaging to the labor movement, no question about that," said Schultz. "I think it sends a message as to what kind of ground game is going to be needed to fight off the special interest money that's going to be coming into a lot of races in the country where they're going to be outgunned financially."
Schultz said that he expects Walker to get "more aggressive" in his governance and he should expect the national Republican to prop him up – even give him a prominent speaking slot at the GOP presidential nominating convention in late summer.
MSNBC host Rachel Maddow said that there remains the possibility that one of the Republican state senators subject to recall could still lose which would flip control of that chamber to Democrats.
"It's going to slow down the agenda. It's going to make Scott Walker talk a little bit," said Schultz of that possibility.
"But, this is also an opportunity for the Republicans to gain a great deal of confidence. When they out-fund the opponent, it can make a difference," Said Schultz. He said that Walker could face a criminal indictment coming in the next several days. Schultz was referring to the "John Doe" scandal that implicates a number of aides who are alleged to have misused campaign funds when they served under then-Dane County Executive Scott Walker.
"There is a lot of fudging going on, so to speak," said Schultz.
"There is no embarrassment in the loss," Schultz concluded. "This was a great night for democracy because the turnout was terrific and I think Americans have to celebrate that."
Watch the segment below via MSNBC:
Follow Noah Rothman on Twitter
Have a tip we should know? tips@mediaite.com