Ed Schultz Tears Into Ron Paul For Anti-Gay Stances After… Praising Rick Santorum?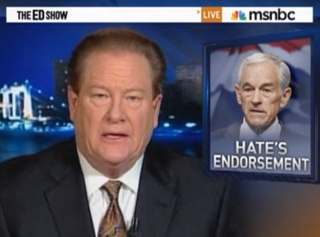 Ed Schultz's program yesterday, like many of Ed Schultz's programs, featured a heavy-handed segment bashing a Republican candidate for having extremist exclusionary views on LGBT Americans and their place under the law. The segment was par for the course, but preceded by an exceptionally good and thorough interview with a presidential candidate– one that, while alone was a great bit of journalism, cluttered the contextual frame of the segment before it: a positive interview with Rick Santorum, who received no such scrutiny on his "family values."
RELATED: Rick Santorum Gets Into Heated Argument With Student Over Gay Parents
Schultz first promised a "completely objective" take on Santorum, and rather aptly delivered, questioning Santorum on a variety of his policy views– particularly foreign policy, and how he had challenged Rep. Ron Paul on issues therein. He praised Santorum, stating that there "are few on the stump who do a better job at retail politics," and in passing mentioning that Santorum "loves" to "cite religion and family values."
A segment or so later, Schultz was talking about that very same Rep. Paul, and the tenor of his program took a noticeable shift into attack mode over, of all things, allegedly anti-gay stances. He chided Rep. Paul with Raw Story's Mike Rogers for receiving the endorsement of a reverend who "thinks homosexuals should be executed," one "who makes extremists look tame. Rogers argued that the endorsement was a result of Rep. Paul wanting "to free up states to be able to do things like this reverend wants," so that "the state of Texas can basically make being gay illegal if it wanted to." Rogers then argued that what Rep. Paul would like to see happen to the American legal system is that "the Christian law and the Bible become one with the civil law," which at face value sounded like an extremely off-base interpretation of a natural law theory.
For anyone even casually following the career of Rick Santorum, an interview where his stances on Don't Ask Don't Tell and same-sex marriage/adoption is already a significant departure from the norm, though a particularly necessary one should Santorum become the next Republican frontrunner after Iowa. But following that up with a display of how important the issue of gay rights are and how dangerous anti-gay views can be rings, at the very least, disingenuous. At first blush, it is difficult to justify a talk with one of the most vilified– and rightfully so– political figures to the LGBT community without citing this fact. Coupled with an extended claim that said issue is important enough to disqualify a different candidate from the nomination, it feels near impossible.
There are legitimate reasons why Schultz did not see a disconnect between boosting Rick Santorum's credibility among liberals by giving the candidate a sort of stamp of approval while going after a different candidate (and it really doesn't matter who the other candidate is) for having a serious problem with the gay community. For one, the pastor involved in the Rep. Paul affair, according to Schultz, believes in the execution of LGBT people and endorsed Rep. Paul because he sees the opportunity for states to regain the ability to trample the human rights of individuals under the guise of a "small federal government" that allows such things. These views are an order of magnitude more malignant than anything that Santorum appears to believe. Sure, Santorum wants to ostracize the gay community from mainstream society and deprive them of basic legal privileges that all people in a relationship should have, but he doesn't want to kill them. He even talks to them sometimes!
There is also the fact that the single most commonly associated topic to Rick Santorum is his "family values" ideas, which the media treats as such a big part of the Santorum campaign that it ignores almost anything else in his platform– similar to the way, one could argue, that the media obsesses over the racism in Rep. Ron Paul's newsletters or his hatred of the Federal Reserve without looking at his beliefs in other areas.
RELATED: Chris Wallace Takes Rick Santorum To Task For His Gays In The Military Comments
It would not have been difficult for Schultz to explain to a viewer watching these two segments what he was thinking when he put them together, given how easy it is to feel like a segment of Schultz praising Santorum's campaign prowess followed by him bashing Rep. Paul's anti-gay ties belongs in an alternate universe. The disconnect is stark and merits explanation.
That is not to say that Schultz's Santorum segment standing alone was unfairly positive, or that the Rep. Paul segment alone was unfairly negative. In fact, the Santorum segment was possibly one of the brightest examples of objective reporting from an opinion anchor of the 2012 campaign, and there is much potential benefit from these sorts of exchanges between candidates and partisan anchors who make no pretense of not having a point of view. But the context they give each other serves to punish a candidate for several decades-old comments while praising another who has said far more damaging things repeatedly during this very election cycle– a candidate who ignored the booing of a crowd against a gay soldier in Iraq, who said that much like a napkin will never be a paper towel, a gay couple can never be married.
Watch the two segments back to back (via MSNBC) below, and judge for yourself whether they feel incongruent or insufficiently explained:
Have a tip we should know? tips@mediaite.com