Ed Schultz Torches GOP For Anger Over Gay Marriage: Who Would Align Themselves With These People?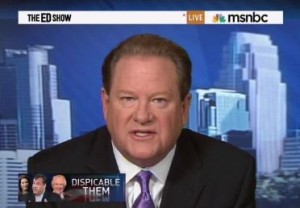 MSNBC's Ed Schultz took the Republican party to task today for its hyperbolic and increasingly apocalyptic warnings about what the Supreme Court's DOMA decision will have on the country. He went down the list from Michele Bachmann saying prayer will save us to Pat Robertson warning of end times to a Pennsylvania state representative who silenced his gay colleague on the floor for speaking out against God's law. Schultz wondered why anyone would want to align themselves with a party where so many are arguing in favor of discrimination.
RELATED: Rachel Maddow Battles Christian Leader Ralph Reed Over Attempts To 'Demean' Gay People
Schultz declared that Republicans "will say anything to stop gay rights from advancing in this country," calling out Jim DeMint and Tim Huelskamp for "spreading this bogus lie" that children are better off living with straight parents. He slammed Louie Gohmert "trying to scare Americans" by walking down the slippery slope to polygamy, and Bachmann's advice for how we can be saved. Schultz summed up her comments thusly: "If we pray the gay away, America will survive."
Schultz took some time to call out Chris Christie on the idea some Democrats believe that he is a real moderate, before delivering a fiery rant against the Republican party for actually advocating for government discrimination.
"God's law doesn't apply to government. At least, that's the way this country was set up. And right now this country is being truly tested by the separation of church and state. I respect all opinions, I respect the faith, I have faith myself. But who in this country should align themselves with a political party that would advocate discrimination? Rights in society? Who would do that? Republicans."
Watch the video below, courtesy of MSNBC:

—–
Follow Josh Feldman on Twitter: @feldmaniac
Have a tip we should know? tips@mediaite.com
Josh Feldman - Senior Editor