Ed Schultz: Would 'Birther Nonsense' Be Going On 'If We Had A White President'?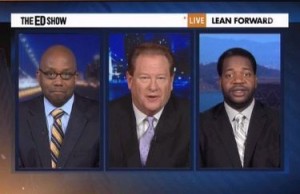 Let's face it, this week has been kind of a dull one in the presidential campaign. So let's savor all the delicious, drawn-out controversy we still can, shall we? After all, Donald Trump is now actively being embraced by the Mitt Romney campaign, and wherever there is Trump, there is delicious, drawn-out controversy. Ed Schultz talked Trump on his show today and asked if the Romney's embrace of Trump as a sign that the campaign may actually not find birtherism such an outlandish claim after all.
RELATED: Following Obama's Dinner With George Clooney, Romney Campaign Offers Dinner With … Donald Trump
Schultz ran a nice little montage reminding viewers that Trump has been raising the birth certificate issue for quite a while now. Guest Errol Louis credited the tycoon for being "very knowledgable" and dismissed his rantings as "pure showbiz" designed to manufacture controversy. However, Trump may be doing more damage to Romney's campaign than he thinks, Louis argued.
Lehigh University Professor James Peterson said he feels no sympathy for Romney because a presidential candidate is supposed to conduct themselves in a manner completely opposite of Trump's. Schultz pointed out that Romney's advisors have been trying to clarify that the Republican candidate does not drink the birther Kool-Aid, but Schultz couldn't help but ask why, then, Romney has made the decision to publicly embrace, campaign alongside, and coordinate a dinner with one of the most high-profile birthers in the country.
RELATED: Trump: I Would've Continued Presidential Run If Not For Becoming 'Friendly With Romney'
Towards the end of the segment, Schultz asked if the "birther nonsense" would be going on "if we had a white president." Louis didn't bite on the race issue, but did say that a small but vocal minority of people in this country have never been able to accept the legitimacy of Obama's election. Peterson did agree with Schultz's question and went for a more race-related explanation, suggesting that many birthers may also have an "otherism" mentality regarding the president.
Watch the segment below, courtesy of MSNBC:
Have a tip we should know? tips@mediaite.com
Josh Feldman - Senior Editor