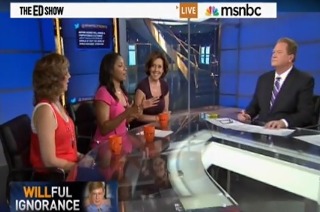 On Monday, Ed Schultz returned to broadcasting on weekdays on MSNBC. On his first weekday program's panel segment, Schultz dug into assertions made by conservative columnist George Will during Sunday's This Week on ABC. Will said that the disintegration of the black family over the last generation is one of the biggest problems African-Americans face. Shultz's panel said that Will probably needs more black friends.

On ABC's This Week, Will quoted former Sen. Daniel Patrick Moynahan (D-NY) who alerted the nation to the impending crisis surrounding the fatherlessness of young black children. When he issued that warning, Will said, the rate of one-parent homes in the African-American community was 24 percent. Today, it is 72 percent.
"That, and not an absence of rights, is surely the biggest impediment," Will said, to achieving racial equality.
RELATED: George Will: Single Moms 'Biggest Impediment' to Black Progress
"What do you say we compound the problem by making sure we don't fund their schools and their neighborhoods?" Schultz reacted. "This isn't the first time George Will has blamed single mothers for the failures of conservative policies."
Salon.com editor-at-large, Joan Walsh, congratulated CNN contributor Donna Brazile for not "strangling" Will when he made those comments. Further, she said Moynahan should be dismissed as a "pariah" because 24 percent of white families are now single-parent homes and he used antiquated language when issuing that warning.
Zerlina Maxwell added that she is tired of the "blaming and shaming" of women, particularly black women, from people on the right. "Conservatives don't want to give them any reproductive health care rights," Maxwell said. She added that conservatives reject government programs for early education and child care.
"Is he really just an old, out-of-touch guy?" Schultz asked.
"He's completely out of touch," Maxwell insisted. "He needs black friends."
Watch the clip below via MSNBC:
—
> >Follow Noah Rothman (@NoahCRothman) on Twitter
Have a tip we should know? tips@mediaite.com