Ed Show Panel: Romney Has To 'Be Able To Stand Up To A Loser Like Donald Trump'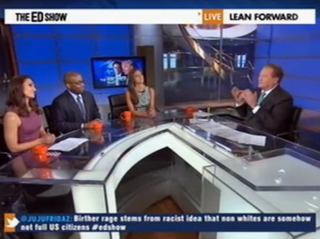 Day 2 of Donald Trump's reconquista of the news cycle continued today, with everyone in the media talking about how talking about Trump in the media was problematic for many reasons. On tonight's Ed Show, Ed Schultz asked his panel how problematic Trump would be specifically to Mitt Romney in associating with him. The panel agreed this did not bode well for leadership skills, with panelist Krystal Ball arguing that a President has to be able to stand up to a "loser" like Trump.

RELATED: Ed Schultz: Would 'Birther Nonsense' Be Going On 'If We Had A White President'?
"Donald Trump is hilarious, but he doesn't mean to be," Ball noted, to which Schultz and the panel agreed. Abby Huntsman agreed, but suggested that the problem Romney has is that he needs Trump because "he has to win Nevada– that's the bigger issue here." Nevada is a state where Trump, as a casino magnate, has enough pull to help out. Ball didn't seem to think this was a good enough reason however. "He has to be able to stand up to a loser like Donald Trump," she argued, later adding that the only reason Trump is so popular is "he rode this ridiculous race-baiting conspiracy theory to the top of the polls a year ago."
Errol Louis agreed with Huntsman that Romney's "main concern is raising money… talking to the base in any way he can," and so Trump is actually a short-term benefit to the campaign. But that still left some leadership questions in doubt. "Romney is not willing to stand up to these issues when it comes up to the base," Huntsman argued. Schultz, bringing up the terse relationship between Trump and Huntsman's father, the Republican presidential candidate, asked whether there was "room for moderates in the Republican Party." Huntsman answered that the question would be with independents, whether "they are looking at this as a positive, that he's not standing up to Trump."
The segment via MSNBC below:

Have a tip we should know? tips@mediaite.com