Edward Snowden's Father's Lawyer Lays Out 'Conditions' For NSA Leaker's Return To U.S. On Fox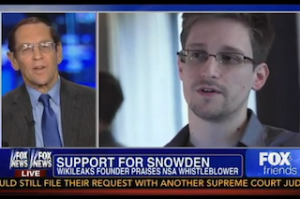 Fox's Eric Bolling was the first to speak exclusively to Lonnie Snowden after his son, NSA leaker Edward Snowden, fled the country to Hong Kong. This morning on Fox & Friends, Bolling heard from Lonnie Snowden's lawyer, Bruce Fein, who laid out the family's demands for the Justice Department in an attempt to make a deal for Snowden to turn himself in.
Fein said he was attempting to work "with the Department of Justice of creating information directly to Mr. Edward Snowden that would enable him to make an intelligent decision of what's available back in the United States with regard to due process." The conditions that Fein laid out in a letter to Attorney General Eric Holder include that Snowden won't be detained before trial, that he wouldn't be subject to a gag order and that the trial would occur in a venue of Snowden's choice. Fein said he had not yet heard back from the Justice Department but stressed that these are not "ultimatums" but rather "conditions" that Lonnie Snowden believes will encourage his son to return to the U.S.
The lawyer also stressed his client's desire to make Snowden's trial not just about his son, but also about "who we are as a people, adding, "the right to be left alone from government snooping is a cherished right."
Bolling contrasted the family's message with that of Wikileaks founder Julian Assange, who appeared on ABC's This Week on Sunday and encouraged Snowden to continue seeking asylum and avoid being detained by the U.S. Bolling described Assange as someone who many Americans "have a big distaste for" and Fein dismissed him as nothing more than a "side show" in the Snowden case.
Watch video below, via Fox News:
—
>> Follow Matt Wilstein (@TheMattWilstein) on Twitter
Have a tip we should know? tips@mediaite.com