'Egypt's Jon Stewart' Bassem Youssef Yuks It Up About Egyptian Gov't Targeting Him On Daily Show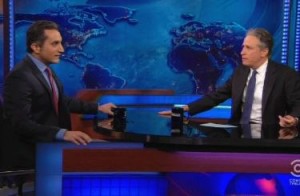 For the first time since his arrest by the Egyptian government, "Egypt's Jon Stewart" Bassem Youssef sat down with his American counterpart, after being escorted to the desk by two menacing security guards. He bantered with Stewart about the relationship between the U.S. and Egypt, why the Egyptian government is acting like a spoiled teenager, and meeting Ann Coulter at the Time 100 dinner.


RELATED: 'Egypt's Jon Stewart' Stands Up To 'Fascist' Morsi Regime On CNN Following Interrogation
Youssef wryly said that Egypt is just as scared of the U.S. as the U.S. is of Egypt. When Stewart quibbled, Youssef asked, "Have you seen Fox News?" He revealed that he met Coulter at the Time 100 dinner and said he felt a lot of her negative energy seeping out towards him.
Stewart shifted to ask Youssef if getting so many accolades in the United States helps him with the Egyptian government or if it makes them angrier. Youssef said it's definitely the latter, calling President Mohammed Morsi a "sore loser" for picking on a comedian, of all people. He likened the government to a whiny teenager with too many pimples who won't shut up about people teasing them.
Stewart read off the charged Youssef was arrested for mere weeks ago, but Youssef revealed more have been added to the list, including propagation of homosexuality, inciting violence, and even insulting Pakistan. He quipped, "They're running out of ideas." Youssef told Stewart that if they watched this interview of the two of them, they would sneer, "look at him sitting with the Jew!" Stewart explained that if Jews really controlled the media, he wouldn't be stuck on basic cable.
Watch the video below, courtesy of Comedy Central:
—–
Follow Josh Feldman on Twitter: @feldmaniac
Have a tip we should know? tips@mediaite.com
Josh Feldman - Senior Editor