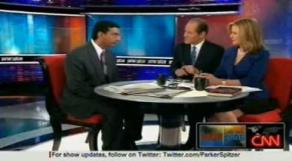 Parker Spitzer has been looking for a toehold in the cable news world, and Eliot Spitzer taking on The Roots of Obama's Rage author Dinesh D'Souza may have been a place to start.
Several time in the six minute interview last night Spitzer had D'Souza on the ropes, calling his work "factually wrong" in many cases. Unfortunately, then came an edit, and new topic.
"According to you, Barack Obama is really the enemy of the United States," said Spitzer in his introduction. Of the book: "I find this completely based on supposition, venom and counter-factual. So where do you get this stuff?"
Spitzer and D'Souza argued over the facts of D'Souza's much-debated Forbes article, which was essentially an excerpt of his book. But as the argument veered toward heated, a clear edit can be seen, and Kathleen Parker jumps in with, "The point seems to be that Obama is not really one of us. So talk to us about, 'who are we?'"
This could have been a great opportunity to see Spitzer, the tough prosecutor turned TV host, in action. Instead, the producer chose to edit the exchange to incorporate a broader array of topics. At another point, Spitzer and D'Souza talked about the stress tests for banks looking to pay back money to the government. "This was a unique circumstance so again you're factually wrong," said Spitzer. But before D'Souza could retort, Parker asked, "Do you really believe Barack Obama wants Iran to have the nuclear bomb?"
Spitzer's own passion for the topic and for mixing it up with his guest (it was Parker and not both who thanked D'Souza at the end of the segment) bodes well for the future of the program. Maybe CNN.com could release the unedited version, a la Stewart or O'Reilly. If Parker Spitzer can be more argument than party, it can begin to convince some skeptics.
Here's the interview:


—–
» Follow Steve Krakauer on Twitter
Have a tip we should know? tips@mediaite.com