Eliot Spitzer Says He 'Understands' Gen. David Petraeus' Decision To Resign Over Scandal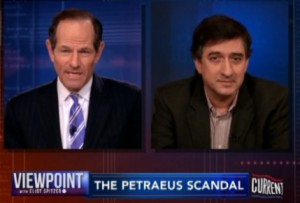 The ever-widening, attention-grabbing scandal that has snatched away the career of now-former CIA Director General David Petraeus presents an interesting dilemma for the subset of media personalities who have, themselves, been forced to resign in scandal. On Monday night's edition of Current TV's Viewpoint with Eliot Spitzer, host and former New York Governor Eliot Spitzer handled the issue straightforwardly, but gently, telling Newsweek/The Daily Beast's Michael Tomasky, of Petraeus' resignation, that "to state the obvious, I can understand his sentiments and his feeling," but added that he "wonder(s) if the President still could have looked him in the eye and said that, as the Commander in Chief we have analyzed this, I am asking you to stay on, you will atone for your sins, but you will serve your nation."
Spitzer began by asking Tomasky, "Could the President have refused to accept the offered tender resignation of General Petraeus?"
"I think he could have, yeah," Tomasky said, "But you and I weren't in the room when they had that conversation. But from the things I've read and heard, it would seem to me that Petraeus was very pained by this situation, by the fact that this had become public. It was becoming public. And it looks top me like Petraeus insisted on stepping down because he felt that he had committed a breach, and that he had crossed a line, and that he really wanted the President to accept his resignation.
"Well, to state the obvious, I can understand his sentiments and his feeling," Spitzer said, an oblique reference to his own resignation following scandal, "but I still wonder if the President still could have looked him in the eye and said that, as the Commander in Chief, we have analyzed this, I am asking you to stay on, you will atone for your sins, but you will serve your nation."
Ordinarily, such a scenario would seem outlandish, but in Petraeus' case, he might just have had the kind of political traction, on both sides of the aisle, to make that work, but as Tomasky pointed out, that doesn't seem to have happened.
Spitzer touched on his past a bit later in the segment, as well. Both Spitzer and Tomasky correctly wondered why any of this is Congress' business, if no crime was committed, and Gov. Spitzer agreed with Tomasky that the media's attention should be focused on the FBI agent who leaked details of the investigation to Republican members of Congress. "I could not agree more," Spitzer said, "and I'm trying not to be too judgmental for a whole host of reasons, but yes, I, as well, when I read the litany and the sequence here, I'm intrigued by this sort of rogue agent, is the only way I could describe him/her. Who picks up the phone sequentially to two Republican members of Congress and alerts those members of Congress to the fact of an ongoing investigation. Now the members of Congress acted properly. Cantor called the FBI director. Eric Cantor did exactly what he should have done once he knew about it. But what's an FBI agent doing going out of protocol to alert politically people about an internally investigation."
Spitzer's analysis may seem a bit self-serving, but in this case, is also correct. Unless there turns out to have been some sort of criminal wrongdoing, Petraeus' indiscretion should never have become a national security issue.
Here's the clip, from Current TV's Viewpoint:
Follow Tommy Christopher (@TommyXtopher) on Twitter.
Have a tip we should know? tips@mediaite.com