Fox's Elisabeth Hasselbeck: Forget Gun Control, What About Video Game Control?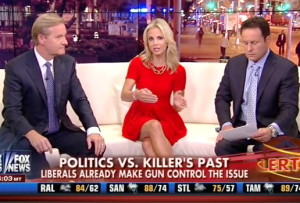 Boy, that was fast.
Tuesday morning on Fox & Friends, Brian Kilmeade and Elisabeth Hasselbeck took particular note of Aaron Alexis' apparent "obsession" with video games. This one detail about his life led Hasselbeck to question whether a closer examination of video games, their violent effects, and the frequency that individuals play them might be in order.
But before she did that, Hasselbeck and her co-hosts went after liberals trying to gin up the gun control debate over the Washington Navy Yard shooting, even as it turns out Alexis may not have had an AR-15 in the first place. Kilmeade argued this isn't about gun control, it's more about a disturbed individual with a history of agression and playing violent video games. Hasselbeck agreed, saying in conversations like these "we start to spread blame where possibly it doesn't belong."
A few minutes later, Hasselbeck spread the blame to video games. Steve Doocy brought up how a few other crazed killers, from Aurora to Sandy Hook, were also described as "addicted to video games." This led Hasselbeck to suggest that rather than gun control, the country might want to examine video game control instead.
"What about frequency testing? I mean, how often has this game been played? Maybe there's some sort of–and I mean, I'm not one to get in there and say monitor everything, but if this indeed is a strong link, right, to mass killings, then why aren't we looking at frequency of purchases per person, and also how often they're playing, and–maybe they time out after a certain hour."
Watch the video below, via Fox News:
[h/t Raw Story]
[photo via screengrab]
— —
Follow Josh Feldman on Twitter: @feldmaniac
Have a tip we should know? tips@mediaite.com
Josh Feldman - Senior Editor