Elizabeth Colbert-Busch Opens Up To O'Donnell About Her Famous Brother And Her Campaign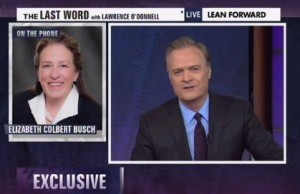 Elizabeth Colbert-Busch could very well end up serving in Congress by the end of the year. Assuming she wins the Democratic primary in a South Carolina special House race, her likely opponent is the scandal-plagued former governor Mark Sanford. On top of that, of course, she has already gotten a big media boost thanks to her brother, comedian Stephen Colbert. Tonight Colbert-Busch sat down with Lawrence O'Donnell to talk about her candidacy, her famous brother, and how their last name is really pronounced.
O'Donnell opened by noting how Colbert-Busch's family actually has a long history of ties to the Democratic party politics, before asking the big question on everyone's minds: is it Col-BERT or Col-BEAR? Colbert-Busch explained that her father told her and her siblings about their French heritage and let them choose the pronunciation. She went with Col-BERT, while her comedian brother went with the French pronunciation.
RELATED: Colbert Refuses To Endorse His 'Intelligent, Hardworking, Compassionate' Sister's Congressional Campaign
And speaking of Stephen Colbert, O'Donnell asked Colbert-Busch if she gets tired of people asking her what her brother is like. She said that she doesn't mind, explaining that her brother was "always the observer" when they were younger and has long had a "very intellectual sense of humor."
Colbert-Busch dispelled questions about if her brother's Super PAC would help finance her campaign, reminding viewers that he ended the Super PAC last year and gave all the money to charities. O'Donnell brought up Colbert-Busch's likely challenger, the scandalized Sanford, and asked her if that would factor into her road to victory. She laughed it off and said she's going to wait until the Democratic and Republican primaries are decided.
Watch the video below, courtesy of MSNBC:
—–
Follow Josh Feldman on Twitter: @feldmaniac
Have a tip we should know? tips@mediaite.com
Josh Feldman - Senior Editor