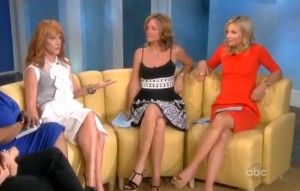 Kathy Griffin went on The View this morning to promote the upcoming season of her Emmy-winning show (which premieres tonight on Bravo) and talk about the stunts viewers should expect to see in the new episodes, like entering herself in a children's beauty pageant and receiving a very public gynecological exam. It was co-host Elisabeth Hasselbeck, however, who provided the self-proclaimed self-promoter with the best press for the premiere: an onstage host spat.
The tension between the two was obvious from the get-go, when Kathy greeted the other couch-sitters with hugs and kisses and only offered Hasselbeck a handshake – a testament to their previous beef. For the remainder of the segment, as Kathy moved from talking about her show to poking fun at right-wingers Bill O'Reilly and Sarah Palin, Hasselbeck sat stone-faced and silent as the other hosts engaged the comedian.
But the fireworks really began when Sherri Shepherd asked Kathy if she ever feels bad for making fun of people:
Elisabeth: You've said things about people here that are a) untrue, and b) not so funny. So do you ever feel weird, like, then coming here and sitting here and you know, kind of promoting things when you've said some of this stuff?

Kathy: Actually, this moment is what I live for, so bring it. I mean, this is actually how I write my act.

Elisabeth: I know. Sadly, I know when I debate in my head whether feeding your curious fire there… so…

Kathy: No, this is how I write my act.

Elisabeth: It's cool. We're cool.

Kathy: I'm cool if you're cool. I think it's all for a joke.

Elisabeth: It's all… cool.

Kathy: Anything else you'd like to say, Elizabeth? Because this is just getting good.

Elisabeth: No, I'm going to go back to sleep, actually.
Note: transcribing dialogue from The View is like trying to pick out the squawk of a single chicken in a crowded hen house – the other hosts sporadically jumped in to remedy the situation, to no avail. But like Kathy said, it was obvious that she lives for moments like these. After the initial shock, she was all smiles, probably ecstatic over what this will do for her ratings tonight.
Watch it below, starting at around the 4:48 mark.
Have a tip we should know? tips@mediaite.com