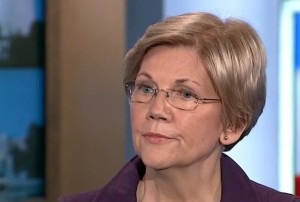 At the conclusion of her lengthy interview with Senator Elizabeth Warren (D-MA) Thursday night, Rachel Maddow asked a million-dollar question that got a two-second response and a steely glare. Warren has been playing politician-coy whenever she's asked if she's interested in being Hillary Clinton's running mate, but Maddow framed the question brilliantly, asking Warren if she feels she could fill the role of commander-in-chief if she had to, and pegging it to Ed Rendell's assertion that she could not. If looks could kill, Rendell would be taking a dirt nap right now:
Maddow: I know you don't want the job. but do you know you would be capable of stepping into that job and doing that job if you were ever called to do it? I ask you because Ed Rendell, former DNC chairman, former Pennsylvania governor, said recently that you were not in any way, shape or form ready to be commander in chief. I want to know if you think you could be.

Warren: Yes, I do.
It was brilliant because Maddow's question cut through all of the "I love my job" crap and proved at least that Warren is not not interested in the job. No politician could answer that question in any other way and still hope to be considered.
But Warren's answer was way too short, and despite framing it brilliantly, Maddow failed to follow up by asking about Rendell's substantive criticism. Warren has been, and will continue to be, an effective attack badger on Donald Trump, but she's going to be asked this question again, and needs a better answer than "Yes, I do." There's precious little in her resume that demonstrates an interest in, let alone an aptitude for, foreign policy.
Have a tip we should know? tips@mediaite.com