Elizabeth Warren Refuses to Say Tim Kaine is 'The Right Pick' for Hillary's VP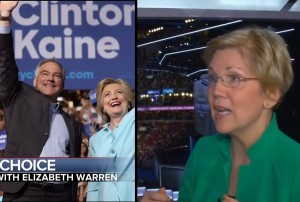 Massachusetts Senator and Democratic Party superstar Elizabeth Warren has quickly become an invaluable member of Democratic presidential nominee Hillary Clinton's election campaign, but a spot on Hillary's ticket just wasn't in the cards this time. That fact might not be sitting as well with Warren as it seems, if this subtle exchange with ABC World New Tonight anchor David Muir is any indication. During an interview on the floor of the Democratic National Convention, Warren spoke warmly of potential Vice President Tim Kaine, but pointedly and repeatedly refused to agree that he was the "right pick" as Hillary Clinton's running mate:
Muir: Was he the right pick?
Warren: Look, I've known Tim Kaine since I've been in the senate, and he is a good man.
Muir: But the right pick?
Warren: Well, he's a good man, he has a good heart and he has a lot of experience. I think he's going to be a valuable member of the team for Secretary Clinton.
Warren has been such an asset for Hillary that it's tempting to overlook this, but it's the kind of thing that the press will pick at, especially now that they've all read about it in Mediaite. The correct answer, politically, is "yes," and then whatever explanation you want to give after that. Warren's reaction is likely more out of a wish for a more progressive, less bank-friendly pick than out of pique at not being picked herself, but if she's on Team Hillary, it gains nobody anything to be seen as second-guessing the candidate. He's the right pick because he's the pick.
Have a tip we should know? tips@mediaite.com