Elle Praises Megyn Kelly: Repeatedly Strays from 'Preaching-to-the-Choir Punditry'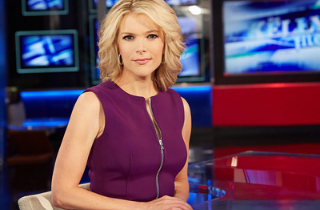 For its February "Women in Television" issue, Elle magazine profiled Fox's rising primetime star Megyn Kelly and, oh, did they have nice things to say about her.
At one point, reporter Ben Dickinson compared The Kelly File host's vocal delivery to a particularly famous male actor with a soothing voice: "The earthy timbre of her voice—she's almost incapable of sounding shrill, a great asset in her line of work—and her direct, unpretentious manner of speaking summon to mind, of all people, George Clooney," he wrote.
While the profile piece delved into her academic background and how she got where she is today, it also effusively praised her work at Fox, quoting a former boss of hers (ex-WJLA director Bill Lord) who says her "journalism transcends some of the ideological biases."
Dickinson pointed to three on-air instances in which she "strayed from the standard run of preaching-to-the-choir punditry": 1) Her 2011 trouncing of conservative radio host Mike Gallagher after he called her maternity leave a "racket"; 2) When she told slimy Fox psychiatrist Keith Ablow that he's "adding to the hate" by calling transgender celebrity Chaz Bono "toxic"; and 3) When she famously walked off-set to show Karl Rove once and for all that, yes, Romney lost the 2012 election.
(Sadly, the magazine didn't include Mediaite's #1 cable news moment of the year: Kelly's mighty takedown of conservatives Lou Dobbs and Erick Erickson, who both suggested the proliferation of female breadwinners is bad for society.)
Despite those well-known moments, Dickinson declares that Kelly is no "liberal Trojan horse," concluding for his readers that even though "Megyn Kelly is clearly not on [liberals'] side and is just beginning an epic, probably history-making run in broadcast news, it's going to be one helluva show. Hey—pass the popcorn!
Read the full profile here.
— —
>> Follow Andrew Kirell (@AndrewKirell) on Twitter
Have a tip we should know? tips@mediaite.com