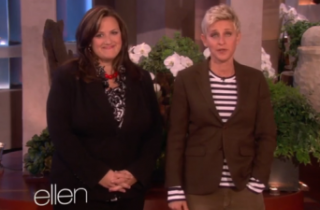 News 8 reporter Jennifer Livingston was pretty hurt when a male viewer sent an unsolicited email suggesting she lose weight, but has at least one thing going in her favor: the Wisconsin journalist just appeared on Ellen DeGeneres's show, where she received a promo from the TV host herself and Friends alum Matthew Perry, in addition to a free five-day trip to the Caribbean.
"When I visit LaCrosse, Wisconsin, I wake up with Jen and Bill on 'News8 This Morning' and then I go back to bed because a cover girl needs her beauty sleep," DeGeneres said alongside Livingston, who added that it was time to listen to anchor Randy for sports news.
Perry showed up in "Randy's" place and said, "I don't want to talk about sports. I want to talk about Jen and Bill and you should watch them every weekday morning from five to seven on News8. Do I have time to mention my show?"
DeGeneres jokingly said that there was no time for Perry's self-promotion before surprising Livingston with a five-day trip out of the country.
"This is very exciting because the winters in Wisconsin can be so cold and Ellen thinks I deserve a little break," Jennifer read from the screen. "And you are sending me to the Caribbean for a five-night trip?"
The audience cheered and DeGeneres said, "You're going to relax because we think you're amazing."
Livingston fell into the national spotlight earlier this month when she dedicated a portion of her airtime to calling out the man who wrote her to say that she needs to slim down and set a healthy example for young female viewers. The guy who reached out to her was heavily criticized in the media, but refused to issue an apology for his seemingly out-of-nowhere remark. Livingston spent Monday afternoon promoting an anti-bullying petition on Twitter: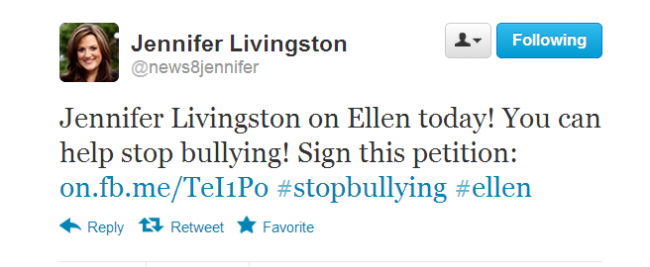 Watch Livingston's appearance on Ellen below:
[h/t RadarOnline]
—
>> Follow Laura (@LauraDonovanUA) on Twitter
Have a tip we should know? tips@mediaite.com