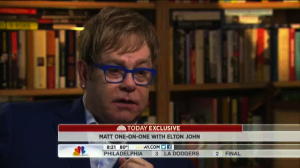 Elton John sat down with Matt Lauer on The Today Show to talk about his personal connection to the AIDS epidemic and the foundation he started to raise awareness. John told Lauer that while he doesn't have a particularly strong opinion of George W. Bush, he lauded the former president as "fantastic" on AIDS. As for President Obama's public endorsement of gay marriage a few months ago, John said it was "wonderful" to see the president stand up for the gay community.
RELATED: Donny Deutsch Is Mercilessly Mocked For Showing Up On Set Looking Like Elton John At A Yacht Club
Lauer asked John why he had waited "so long" to publicly come out in 1976. John admitted that when the Rolling Stone reporter who interviewed him awkwardly tried to broach the subject, John admitted he told the reporter to ask him, saying his sexuality was not that much of a secret. And while there may have been some public outcry or protest, John said it didn't have any kind of effect on his career.
John admitted that at the height of the AIDS epidemic, he didn't think much of getting his life in check or cutting down on his drug use. He said that his perspective was changed after learning of Ryan White, a young teenager infected with HIV whose case received national attention. He said the epidemic gave way to all sorts of ridiculous rumors about how a person could contract HIV/AIDS.
After talking about the celebrities he believed were very important in raising AIDS awareness, Lauer asked John to engage in a game of "political word association." John called Ronald Reagan overrated, and praised Bill Clinton as "fantastic," despite his faults, but when Lauer asked John his thoughts about George W. Bush, Lauer said he respects Bush for his commitment to AIDS awareness.
"I have a kind of soft spot, in a way, because he was – what he did for AIDS was fantastic. Um, but I'm glad he's not in power anymore… he was fantastic with AIDS."
Lauer asked John what his personal reaction was to hearing President Obama come out in support of gay marriage earlier this year. John said it was "wonderful" to hear, and while acknowledging the president can't just "get things done overnight," he praised Obama's commitment to important gay causes. He dismissed the suggestion that Obama was pressured into coming out in favor of gay marriage, declaring it to be the right thing to do.
Watch the full interview below, courtesy of NBC:
—–
Follow Josh Feldman on Twitter: @feldmaniac
Have a tip we should know? tips@mediaite.com
Josh Feldman - Senior Editor