Democratic Congressman Suggests Charges Should Be Filed Against All Top 25 Hedge Fund Managers
Dem Congressman Suggests Charges Should Be Filed Against Top 25 Hedge Fund Managers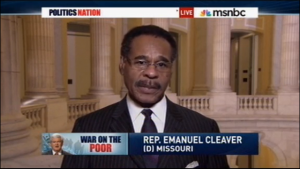 Thursday night, MSNBC's Al Sharpton brought on Missouri's Rep. and Black Caucus chairman Emanuel Cleaver to discuss Newt Gingrich's recent remarks in Iowa that "really poor children in really poor neighborhoods have no habits of working and have nobody around them who works."
Cleaver felt that much of the commentary surrounding Gingrich's comments aren't "conservative statements" so much as "mean-spirited statements." He continued:
I grew up poor; I know poor people. There are poor people who are in the Republican party who don't deserve to have somebody say that the only thing they want to do is commit crimes. And it would seem to me that, if Mr. Gingrich is really interested in trying to stop crime, he would try to work to get some charges filed against the 25 top hedge fund managers who collectively earned 11.1 billion dollars. But he's going to attack poor people, and the hope, of course, is that they're not going to turn out to vote.

I don't think that this is Republicanism. It is not conservatism. I think this is Gingrichism and that the public is going to eventually catch on and Mr. Gingrich will follow the people who also rose to the top of the polls in the Republican party.
Sharpton then showed a clip of Gingrich saying that people are now using food stamp money to fund trips to Hawaii, adding that food stamps are now being "given to millionaires." Cleaver said this could be dealt with rather simply: By asking Gingrich for the names and addresses of the millionaires who have been committing fraud by accepting and using food stamps.
Have a look, via MSNBC:
Have a tip we should know? tips@mediaite.com