'Embarrassed' Chris Wallace Tells Clooney That He Wouldn't Be Covering Sudan If Clooney Wasn't 'Part Of It'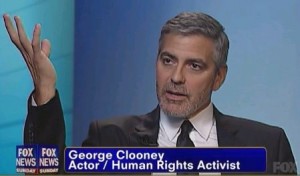 George Clooney has gotten a lot of attention in the media over the last week, and no, it's not for the DVD release of The Descendants. The actor stopped in D.C. to bring national attention to the humanitarian crisis in Sudan. Of course, Clooney and his father were arrested outside the Sudanese embassy, thus bringing more attention to it, but before his arrest, Clooney and activist John Prendergast sat down with Chris Wallace to talk about their commitment to the cause.
RELATED: George Clooney And Nick Clooney Give Press Conference Following Arrest
Wallace asked Clooney if he would be in favor of placing a no-fly zone over the region or organizing an international coalition to go in and bomb the Air Force. Clooney admitted that his base instinct after seeing children losing their limbs and their lives after having bombs dropped on them would be to have a NATO plane come in and "take those guys out of the air." But he acknowledged that it wasn't a realistic scenario. He expressed hope that President Obama would engage in talks with China to work out an alliance to deal with the crisis.
Then Wallace gave a surprisingly candid explanation of his decision to cover this now as opposed to any other time.
"I'm embarrassed to admit this, but we would not be doing this segment, frankly, on Sudan, if you weren't a part of it. Is that the point, to use your celebrity to shine a light on atrocities, on war criminals, that, frankly, the world is all too willing to ignore?"
Clooney understood where Wallace was coming from, recounting stories from his father, Nick Clooney, who has worked in the journalism industry for many years. He explained how his father often tried to get important news stories into the mix, but they were disregarded in favor of entertainment pieces.
"I'm a big believer in the importance of information and news, and I saw my father in the 70s doing really good stories, and then getting bumped because there was a Liz Taylor story that was going to be out. And the story that he did, that had some real social value, was going to get bumped. That's just how it happens. It's sort of the nature of the world we live in."
Clooney explained how he told his father that between his reporting credentials and Clooney's ability to attract cameras because of his celebrity status, they could really shine a bright light on the situation in Darfur. Wallace brought up the KONY 2012 movement, which, for better or worse, has brought people's attention to war crimes committed in Uganda, and he asked both Clooney what he thought of the efforts of Invisible Children. Clooney said that in order to get big things done, you need the "political will" to do it, and he believes the Kony video is good for "encouragement" to get policymakers to actually sit down and do something.
RELATED: George Clooney: President Obama "Dropped The Ball" For A Year
Watch part of the interview below, courtesy of Fox News:
Have a tip we should know? tips@mediaite.com
Josh Feldman - Senior Editor