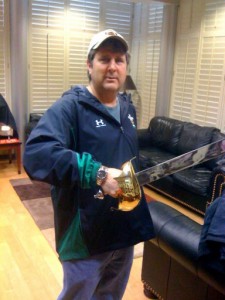 The weirdest story of college football's bowl season got weirder and weirder – then Texas Tech ended it, firing controversial coach Mike Leach (with whom the school has had its share of run-ins before) Wednesday, just three days before his team takes on Michigan State in the Alamo Bowl.
Leach came under fire for allegedly subjecting one of his players, Adam James (son of ESPN analyst and former NFL player Craig James) to supervised solitary confinement in an electrical closet, after Adam James was diagnosed with a mild concussion. Shortly after, Craig James came out with his family's side of the story on ESPN, saying Leach's actions were "not common sense." It's hard to argue with this – if Leach had the kid's best interests in mind, why not send him to, say, your 8,500-square-foot training/rehab facility?
On the other hand, Adam James apparently had a reputation as a prima donna among teammates and coaches, muddying the "Who was in the wrong?" debate. Fairly or unfairly, that same debate could take a toll on Craig James' ESPN job (interestingly, he was originally slated to call the Alamo Bowl, but was understandably pulled off announcing duty for the game when the controversy erupted). Of course he had to show support for his son, and it would have looked strange had ESPN never mentioned it – but it can't look good that there are emails (in this case, from former teammate Eric Morris) with lines like the following:
[Adam James] expected people to baby him and that he was going make it solely on the fact that his father was a very successful player.
As for Leach, he denied wrongdoing all along. This led to the story's strangest moment, as Leach's lawyer, Ted Liggett, took to a local TV station in an attempt to prove that Leach simply kept Adam James in a spacious garage (don't you dare call it a "shed"). Everything about the clip seems off – the anchor initially reporting from the studio in street clothes, the fact that Liggett vaguely resembles actor Brad Leland of NBC/DirecTV's Friday Night Lights (a show on which Leach recently appeared), and the inanity of the story devolving into an argument over "shed vs. closet vs. garage," punctuated by Liggett saying the garage (which, yes, it did appear to be) was "far from the  S-H-E-D word."
That debate doesn't much matter now, though – Mike Leach is out of a job. Expect him to fade into the background for a while (as current UCLA coach Rick Neuheisel did after Washington fired him amid an NCAA Tournament betting scandal), and eventually resurface (as Neuheisel also did, and as disgraced former Kansas coach Mark Mangino likely eventually will). Wherever Leach winds up next, let's hope he avoids any more shed vs. closet vs. garage debates – and that he keeps pumping out YouTube fodder.
Have a tip we should know? tips@mediaite.com