Embattled Trump Campaign Manager Trashed on Twitter After Being Praised at Victory Rally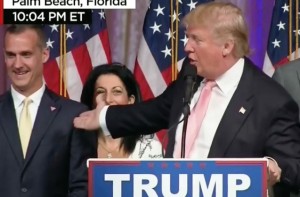 During his victory night speech in Florida earlier, Donald Trump singled out campaign manager Corey Lewandowski for praise amid media scrutiny of his recent actions.
A week ago tonight, Lewandowski allegedly grabbed Breitbart reporter Michelle Fields. Not only did he deny it (despite another reporter witnessing it, video corroborating it, and Fields tweeting out a picture of her bruised arm), but Lewandowski went on the attack in an attempt to discredit her on Twitter.
And then another report dropped today that Lewandowski actually has a history of abusive and sexist behavior.
So when Trump singled him out tonight for praise, politics Twitter didn't pass up the opportunity for some mockery:
"Good job Corey," Trump has zero decency.

— Katie Pavlich (@KatiePavlich) March 16, 2016
Corey Lewandowski, who was the subject of a criminal complaint earlier this week, is literally standing at Trump's right hand

— Ben Jacobs (@Bencjacobs) March 16, 2016
"Corey, good job Corey." Trump says to Lewendowski, who is currently being investigated for battery against a female reporter

— Benny (@bennyjohnson) March 16, 2016
Good job Corey. Now go attack another reporter. #PrimaryDay

— Ben White (@morningmoneyben) March 16, 2016
Trump just said "good job" to Corey Lewandowski, who left bruises on a journalist earlier this week.

— Omri Ceren (@cerenomri) March 16, 2016
I feel like Corey Lewandowski is the mafia boss's dumb nephew who could never earn the Don's love, yet insists on playing the consigliere.

— Ross Maghielse (@Maghielse) March 16, 2016
Corey Lewandowski is the David Miscavige of the Trump cult.

— Peter Birkenhead (@peterbirkenhead) March 16, 2016
Lewandowski on stage after manhandling a reporter, lying about it, & smearing her. Score another for lowered standards. #goodjobCorey

— Mary Katharine Ham (@mkhammer) March 16, 2016
Corey's ranked:

1. Stoll
2. Feldman
3. Haim
4. Gamble

….

124. Lewandowski

— Steve Krakauer (@SteveKrak) March 16, 2016
When Trump ranted about the "disgusting" and "horrible" press tonight, Lewandowski just grinned.
It's worth noting that Trump's speech tonight was billed as a press conference, but he didn't take any press questions. A desire to avoid questions about Lewandowski may have had something to do with that. In the week since, Trump has given tons of TV interviews and hasn't been asked about it in any of them.
Watch above, via CNN.
[image via screengrab]
— —
Follow Josh Feldman on Twitter: @feldmaniac
Have a tip we should know? tips@mediaite.com
Josh Feldman - Senior Editor