Emily's List VP Deflects: If We Keep Talking Hillary Emails, Americans Will Flock to 3rd Parties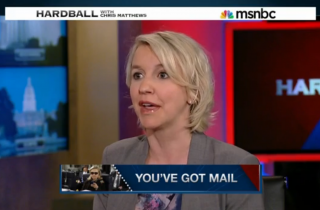 While the media (including traditionally "liberal" outlets) continue to pick up steam in their coverage of former Secretary of State Hillary Clinton's use of a personal email address during her Obama administration tenure, some of her allies have attempted to dismiss the story outright.
Jess McIntosh, VP of the pro-choice Democratic organization Emily's List — which featured Clinton as a speaker for its 30th Anniversary gala this week — is one such example.
During a Wednesday evening panel discussion on MSNBC's Hardball, first flagged by Grabien, host Chris Matthews suggested the fact that Sec. Clinton used her own email server is problematic because it creates a "whole separate reality where she can decide when and if and what she was going to release to anybody asking for it."
He then asked: "Doesn't that give her the power to decide what government business she is going to share? Doesn't that give her the discretion that most public officials don't have anymore?"
McIntosh went on the defensive: "Lots of public officials set up their own server," she said. "Jeb Bush did."
"He wasn't Secretary of State," American Conservative Union chairman Matt Schlapp butted in.
"So you think it's okay for her to keep it all private?" Matthews asked McIntosh.
"Yeah, absolutely," she replied. "I think that she should be able to disclose things that ought to be disclosed and keep things private that ought to be kept private… I think she should follow 'the letter and spirit of the law' and that's what I think she's done."
Unconvinced, Matthews pressed on: "You think it's okay for a public servant at the level of Secretary of State to carry on official correspondence? Because that's the option that she has now since it's all her account."
"I think at that level it's important that they follow the law," McIntosh responded, but then concluded on this final dismissal:
I think if we spend the next few months debating how long something was kept on a server, the American electorate is going to flock to a third party. I don't think american families are going to care.
Watch below, via MSNBC:
— —
Have a tip we should know? tips@mediaite.com