Emmett Till Family Questions Improvement in Race Relations: 'Who are They Asking? The Bigots?'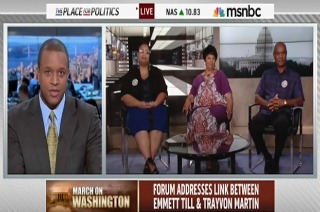 In 1955, 14-year-old Emmett Till was tortured and murdered by white Mississippi men for the imagined crime of "flirting with a white woman." His killers were acquitted but later bragged about their involvement in that crime. Nearly 60 years later, parallels are being drawn between that crime and the killing of Trayvon Martin. Friday on MSNBC, the surviving members of Till's family lashed out at the notion that race relations had measurably improved in the 50 years that had passed since the civil rights movement's march on Washington, D.C.

MSNBC anchor Craig Melvin read from the results of a Wall Street Journal/NBC News poll which recently asked Americans for their thoughts on how much race relations had improved in the United States. In that poll 54 percent of adults agreed that more people in America are "judged not by the color of their skin, but by the content of their character." That included 59 percent of whites and 54 percent of Hispanics. However, only 19 percent of African-Americans agreed with this statement.
Till's cousin, Ollie Gordon, explained this by observing that African-Americans experience racism more than other groups. "You are still looked at and viewed and judged by the color of your skin in the black community," Gordon said. "As when you go into apply for a job, when you go into stores, you're still kind of looked at suspiciously."
"They kind of still follow you around in the stores as to think that maybe you're going to take something that you possibly don't have the money to pay for it," she continued.
"I still encountered racism even in restaurants," Gordon continued. "You go and you may get served last or you may not get served at all. We kind of experienced that just yesterday here in Washington."
"We're still confronted with mass incarcerations," Airickca Gordon-Taylor, another cousin of Till's, agreed. "We're still confronted with many hate crimes very similar to what Emmett Till suffered."
She said that, while perhaps less overt, instances of racial violence and racial injustice – like the acquittal of Martin's killer – are just as problematic were violent incidents 50 years ago.
"Across the country, when you're still confronted with the same type of injustices and the same type of tragedies, it's hard to say we have moved anywhere from 50 years ago," Gordon-Taylor concluded.
Simeon Wright, another cousin of Till's, expressed his frustration over the poll's results, saying that they never asked him for his opinion. "Who are they asking? The bigots?" Wright said.
Watch the clip below via MSNBC:
—
> >Follow Noah Rothman (@NoahCRothman) on Twitter
Have a tip we should know? tips@mediaite.com