Emmy Predictions 2013: Who Will Win, Who Should Win and Who Should Have Been Nominated (POLL)
The 65th Primetime Emmy Awards will air this Sunday, September 22nd and before the big show, let's take some time and look at what to expect from the biggest categories.
Below you will find my predictions, based solely on an unhealthy obsession with award shows and many hours spent watching television, along with my picks for who should win and who should have been nominated. You will also get a chance to weigh in by selecting who you would vote for in each category in our Mediaite poll.
And don't forget to check back here on Mediaite Sunday night for live coverage of the awards as they are handed out.
DRAMA SERIES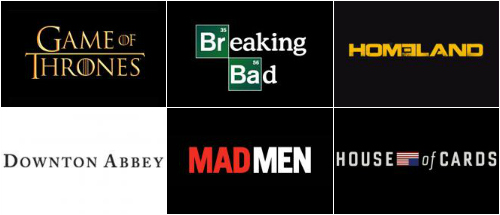 Nominees:
Breaking Bad
Downton Abbey
Game of Thrones
Homeland
House of Cards
Mad Men
What Will Win: Breaking Bad is in the zeitgeist with just two episodes left (the first of which will air opposite the Emmys, no doubt putting a small hole in the 9pm hour). But since the nomination is for the first half of the 5th season, not the episodes airing now, voters may hold off until next year to reward the show. Homeland won last year for its first season, but the second was arguably not as solid. The Emmys could go the innovative route and reward House of Cards or the popular one and go with Game of Thrones, but my money is on a return to old favorite Mad Men.
What Should Win: My heart is with Breaking Bad, but again, because the award would only be for the first half of the last season I'm going to go with Game of Thrones, which was the most enjoyable, satisfying drama of TV this past year.
What Should Have Been Nominated: Maybe not enough people saw it when it aired earlier this year, but FX's The Americans was some of the most finely-crafted television I've seen in a long time. With such a crowded field, it's understandable why it didn't make the cut, but if I were calling the shots, I'd let last season of Downton Abbey go in favor of this '80s period gem.
You Decide:
BEST ACTRESS (DRAMA)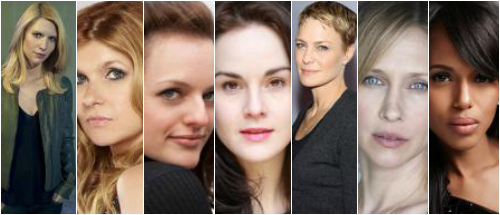 Nominees:
Connie Britton, Nashville
Claire Danes, Homeland
Michelle Dockery, Downton Abbey
Vera Farmiga, Bates Motel
Elisabeth Moss, Mad Men
Kerry Washington, Scandal
Robin Wright, House of Cards
Who Will Win: Homeland's second season may not have lived up to its first, but Claire Danes is still one of the most respected actresses in Hollywood, a fact that was reinforced in a major way by a recent New Yorker profile. She won last year ("Mandy Patinkin, holla.") and this award is hers to lose this year.
Who Should Win: Part of me wants to see Mad Men's Elizabeth Moss take this one home for her increasingly excellent work on that show, but I have to go with Scandal's Kerry Washington, and not only because she would be the first African-American woman to win in this category… ever.
Who Should Have Been Nominated:: Again, this is a category where the Emmys seriously overlooked The Americans. Keri Russell has come a long way from Felicity and she deserves to be rewarded.
You Decide:
BEST ACTOR (DRAMA)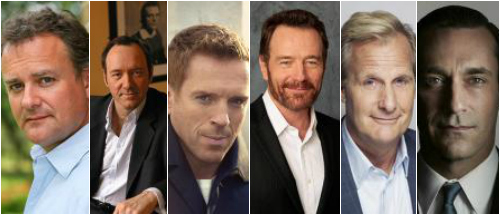 Nominees:
Bryan Cranston, Breaking Bad
Hugh Bonneville, Downton Abbey
Damian Lewis, Homeland
Kevin Spacey, House of Cards
Jon Hamm, Mad Men
Jeff Daniels, The Newsroom
Who Will Win: Bryan Cranston has won every time he's been nominated except for last year. Meanwhile, Mad Men's Don Draper has never won. Assuming voters wait until the end of Breaking Bad to hand Cranston his fourth Emmy, I'm going to give them the benefit of the doubt and say they're going to do the right thing and give Jon Hamm the only Emmy he's likely to win for his iconic performance.
Who Should Win: For the reasons stated above, this one is all Jon Hamm.
Who Should Have Been Nominated:: With so many simultaneous story lines, Game of Thrones doesn't really have any leading men. One could argue that Peter Dinklage is the closest, but he's nominated in the supporting category. But if I had to pick one actor to grab the lead actor nomination it would Nikolaj Coster-Waldau, who "single-handedly" accomplished the incredible feat of making the audience feel sympathy for a character who crippled a small child in the show's first episode.
You Decide:
COMEDY SERIES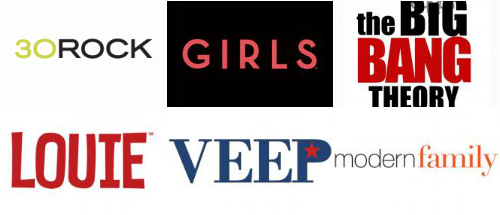 Nominees:
30 Rock
Girls
Louie
Modern Family
The Big Bang Theory
Veep
Who Will Win: Modern Family has won for the past three years, but before that this category belonged to 30 Rock. It's about time the Emmys returned to their senses and rewarded that show's brilliant final season.
Who Should Win: As much as I love Louie, Girls and Veep, 30 Rock deserves this one this year.
Who Should Have Been Nominated:: I would happily replace The Big Bang Theory with New Girl, Bob's Burgers even the questionable fourth season of Arrested Development, but when it comes down to it there's only one answer: Parks and Recreation.
You Decide:
BEST ACTRESS (COMEDY)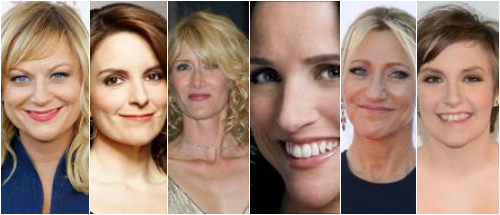 Nominees:
Laura Dern, Enlightened
Lena Dunham, Girls
Edie Falco, Nurse Jackie
Tina Fey, 30 Rock
Julia Louis-Dreyfus, Veep
Amy Poehler, Parks and Recreation
Who Will Win: HBO's Veep just keeps getting better and that has a whole lot to do with Julia Louis-Dreyfus. She took this award home last year and she's poised to do it again.
Who Should Win: Amy Poehler never wins anything and she deserves to win everything, but this year I would give my vote to Laura Dern. The recently canceled Enlightened deserved way more recognition than it ever got while it was on the air and this award is no different.
Who Should Have Been Nominated:: After a whole lot of love for its mediocre first season, the Emmys almost completely overlooked New Girl for its much-better second season. Zooey Deschanel deserved to back on this list.
You Decide:
BEST ACTOR (COMEDY)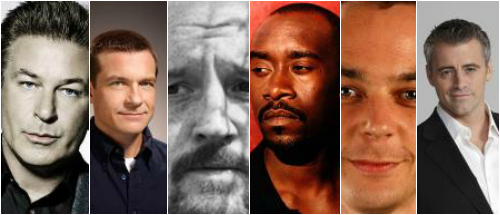 Nominees:
Jason Bateman, Arrested Development
Jim Parsons, The Big Bang Theory
Matt LeBlanc, Episodes
Don Cheadle, House of Lies
Louis C.K., Louie
Alec Baldwin, 30 Rock
Who Will Win: It's possible that voters will go back to Alec Baldwin (as I'm predicting they will do for 30 Rock in the Comedy Series category), but I'm going to predict that the Emmys will return to an old favorite in Jim Parsons.
Who Should Win: Since he writes, directs, edits and produces Louie pretty much by himself, Louis C.K.'s acting typically gets overlooked. But of these six men, he's brings a certain sadness to his role that just goes far beyond what everyone else is doing.
Who Should Have Been Nominated:: The New Girl snub-fest extended to the show's actors this year, who all could be considered in the supporting category. But given his surprisingly nuanced romantic storyline with Zooey Deschanel's Jess, Jake Johnson could easily graduate to the big leagues and join this group.
You Decide:
VARIETY SERIES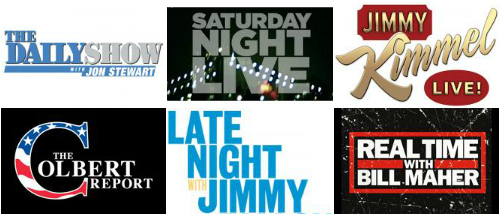 Nominees:
Jimmy Kimmel Live
Late Night with Jimmy Fallon
Real Time with Bill Maher
Saturday Night Live
The Colbert Report
The Daily Show
Who Will Win: This should be one of the most hotly contested categories of the night… if The Daily Show hadn't won for the past 10 straight years. I wish I could predict that someone was going to upset the streak this year, but I just don't see it happening, especially because the cut-off was before the summer of John Oliver.
Who Should Win: For me, this comes down to a battle of the best friends for six months. I say the Emmys can reward Jimmy Fallon's final season before ascending to the Tonight Show next year, so this year, I'd put my vote in for The Colbert Report.
Who Should Have Been Nominated:: Sadly, Leno and Letterman just don't try hard enough any more to make the Emmy cut. But Conan is still out there busting his bony, white ass every night on TBS. That show got nominated for its first seaosn in 2011, but it's about time it happened again.
You Decide:
[photos via Emmys.com]
— —
>> Follow Matt Wilstein (@TheMattWilstein) on Twitter
Have a tip we should know? tips@mediaite.com