Emotional Michelle Obama Chokes Up While Addressing The Need For Stricter Gun Laws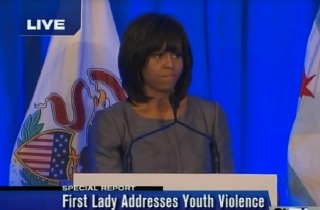 First lady Michelle Obama became emotional on Wednesday as she addressed a Chicago audience and urged their support for stricter gun laws. She described the shooting of 15-year-old Hadiya Pendleton, who had sung at President Barack Obama's second inauguration just days before her death, and asked if the nation was doing enough for children like Pendleton.

RELATED: GOP Sen. Toomey: Background Checks Are Not 'Gun Control,' They're 'Common Sense'
"I think my husband put it best when he spoke to the people of Newtown, Connecticut, back in December," Michelle Obama began. "This is our first task – caring for our children. It's our first job. If we don't' get that right, we don't get anything right. That's how, as a society, we will be judged. And by that measure, can we truly say as a nation that we're meeting our obligations?"
"It was the question weighing on my heart when I met with Hadiya Pendleton's classmates on the day of her funeral," the first lady continued.
She became emotional describing how Pendleton's classmates remembered the slain teen at her funeral. "It is hard to know what to say to a room full of teenagers who are about to bury their best friend," Mrs. Obama said. "I told them that there is a reason we are here on this earth. That each of us has a mission in this world, and I urged them to use their lives to give meaning to Hadiya's life."
"Today, I want to say the exact same thing to all of you," Obama added. "We need to show them, not just with words but with actions, that they are not alone in this struggle."
Watch the clip below via CLTV-Chicago:
> >Follow Noah Rothman (@NoahCRothman) on Twitter
Have a tip we should know? tips@mediaite.com