'Engaging In Mass Propaganda': MSNBC Guest Tears Into Obama's 'Chaotic,' 'Baffling' Syria Response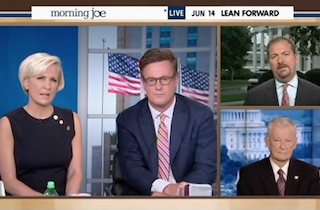 During a discussion about Syria on Friday's Morning Joe, Zbigniew Brzezinski and Chuck Todd joined the panel to weigh in. With the Obama administration saying the so-called "red line" has been crossed with the use of chemical weapons, Brzezinski had a critical take. Questioning the "chaotic" response, he harshly observed some "propaganda."
There's no real strategy, Brzezinski argued, noting that the U.S. is using "slogans" about how many people Bashar Assad's regime has killed — when, in fact, there's killing on both sides. The White House talks about a red line but does so ambiguously.
"It all seems to me rather sporadic, chaotic, unstructured," he charged. "I don't see any real strategic guidance to what we're doing. I see a lot of rhetoric, a lot of emotion, a lot of propaganda, in fact."
To that point, Todd noted that the White House doesn't see an "end game" in Syria, which is precisely the problem. Brzezinski jumped in to the conversation again, contrasting successful interventions like Bosnia to less unsuccessful ones like Iraq. We should be negotiating with countries like China, Russia, and Japan, he urged.
"Instead we're essentially engaging in mass propaganda portraying this as a democratic war," he asserted. "Who is fighting for democracy? Qatar and Saudi Arabia are fighting for democracy?"
"And why did the president issue that particular red line?" he continued. "On what basis? With what strategic concepts in mind? This what's so baffling about this whole thing. It's a tragedy and it's a mess in the making and one that can enlarge — involve Turkey perhaps also in this problem, and Turkey is having internal difficulties. I do not see what the United States right now is trying to accomplish."
Watch below, via MSNBC:

Have a tip we should know? tips@mediaite.com