EPA Administrator's Flimsy 'Wake-Up Call' on Climate Change: The Polar Vortex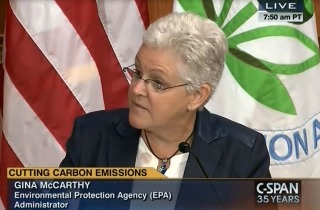 Environmental Protection Agency administrator Gina McCarthy must hope you have a short memory.
In a press conference on Monday announcing the EPA's program to institute new rules for power plants, which aim to cut emissions by 30 percent by 2030, McCarthy spent much of her time explaining why the new regulations were both existentially vital and simultaneously no big deal.
McCarthy dismissed the concerns of those who suggest that the new regulations will increase the cost burden on power providers who will pass on those expenses to consumers in the form of increased electricity rates. Even if there were rate hikes, McCarthy said, they would merely amount to "about the price of a gallon of milk per month." This is an odd statement if her aim is to create the impression that power rate hikes are a cost burden everyone could absorb.
In December of last year, the president's supporters used the "gallon of milk" example often, only then they warned of a price spike if Republicans did not pass a farm bill. Then, an increase in milk prices and the resulting milk scarcity some households would have to endure could mean the difference between sustenance and malnutrition for many. Now, it seems, some households hypothetically having to choose between that gallon of milk and heat are simply bearing necessary environmental trade-offs.
But this was not merely the only example of callous flippancy displayed by your unelected bureaucratic betters at Monday's EPA press conference. Among the reasons why enacting these emissions curbs – rules by which none of the world's major polluters will similarly abide – is an increase in extreme weather events. But since McCarthy could not cite an increase in tornadic activity, 2013 having had the fewest tornadoes on record since 1984, or a spike in hurricanes in the Atlantic, which also saw its quietest year since 1950 last year, she reached for a superbly dubious example of extreme weather activity: this past winter's "polar vortex."
"I am a little tired people pointing to the polar vortex as a reason not to act on climate," McCarthy said. "It is exactly the opposite. It is a wake-up call."
"Climate change heightens risk from extreme cold that freezes our power grid, 'superstorms' that brown our power plants, and heat waves that stress our power supply," She added.
But can it slice, dice, and julienne?
Presumably, McCarthy is referring to comments from conservative commentators like Rush Limbaugh who insisted the frigid temperatures which blanketed the continental United States this winter were evidence that climate change was not a legitimate phenomenon. That, as McCarthy's inartful attack implies, is a foolish suggestion. Extreme weather patterns can, in fact, be associated with increasing global temperatures.
However, according to two studies conducted in 2014, McCarthy's claim that the polar vortex in particular is evidence of catastrophic climate change is not supported by the research. One recent study led by Thomas Ballinger of Kent State University suggests the polar vortex of 2014 was not even an abnormal event.
"Ballinger's team, found, in examining polar vortex behavior across North America since 1948, that the 2014 polar vortex excursion into the lower 48 ranked 6th in southerly extent and 7th in total area," Cato Institute's Paul Knappenberger and Patrick Michaels summarized. "The authors concluded that their analysis 'revealed that the spatial features of the January 2014 [polar vortex over the U.S.] were not extreme relative to certain 1948-2013 Januaries.'"
Furthermore, Ballinger's group found that the link between a loss of Artic sea ice and polar vortices is similarly unfunded. His team's report supports the conclusions of an earlier study, led by Colorado State climate researcher Elizabeth Barnes, which found the linkages between 2014's polar vortex and climate shifts to be tenuous at best.
If the climate crisis is such an acute one, as McCarthy exclaimed on Monday, it would serve her and the administration better if they could cite an example of its effects that was not so easily debunked.
Watch the clip below, via C-SPAN:
[Image via screengrab]
— —
>> Follow Noah Rothman (@NoahCRothman) on Twitter
Have a tip we should know? tips@mediaite.com