Epic: Alex Wagner Spars With Congressman Over MSNBC's 'Pandering' Vision For GOP Minority Outreach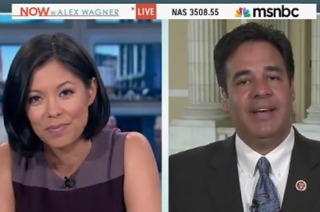 Rep. Raúl Labrador (R-ID) engaged in a heated back and forth with MSNBC host Alex Wagner on Wednesday over the House Republicans' approach to immigration reform. Labrador battled Wagner and her panel guests over what he described as MSNBC's, and the Democratic Party's, preference that the GOP "pander" to Hispanic voters by passing the Senate's version of comprehensive immigration reform.

"You're a person of color," Wagner told Labrador, prefacing a question about his and his party's opposition to the present construction of the Senate's immigration reform proposal. "Your mother was a single mother. You came to this country from Puerto Rico. Are you satisfied that the outreach and the messaging that your party has gotten to single women, working women, single mothers, to people of color?"
Labrador replied that Wagner's assessment of the state of the GOP's minority outreach efforts was "a little off." He cited his colleague, Rep. Steve Pierce (R-NM), who Labrador said is as conservative as he is on issues relating to immigration, but is nevertheless regularly reelected by his majority Hispanic district.
"What he does is he reaches out to the Hispanic community," Labrador asserted. "He doesn't pander to the Hispanic community."
"Pandering to the Hispanic community like The New Republic and MSNBC wants us to do, that is actually a recipe for disaster," he added.
"I would beg to differ on that last point," Wagner interjected.
"If you're pandering, it's going to be the side that panders the most that's going to get the result," Labrador continued. "We're never going to out-pander the Democratic Party."
Wagner contested this claim, saying that the GOP is actively standing in the way of naturalizing undocumented Hispanic immigrants and making their lives better as a result.
"You're saying that they only way the Republican Party can win is by accepting an immigration reform bill that is not fully completed," Labrador continued. He added that the GOP stands for providing legal immigrants with safety and security a thriving economy for all citizens
Wagner shot back that, given Labrador's assertions, it is a "wonder" that President Barack Obama won two thirds of the Hispanic vote in 2012. "It is a wonder," Labrador replied to the laughs of the panel guests.
Watch the clip below via MSNBC:
> >Follow Noah Rothman (@NoahCRothman) on Twitter
Have a tip we should know? tips@mediaite.com