Epic: Bush's CBO Director Battles MSNBC Panel, Slams Democratic 'Gimmicks' Which 'Makes Me Cringe'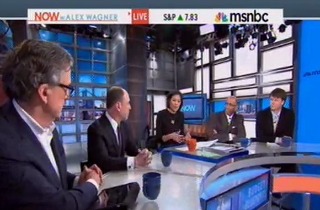 Former Congressional Budget Office director under President George W. Bush, Douglas Holtz-Eakin, joined the panel guests on MSNBC's Now with Alex Wagner on Wednesday where he battled his fellow panelists and the host on multiple fronts. He defended Rep. Paul Ryan's (R-WI) budget proposal as a "serious document," and slammed the spending proposals advanced in the budget released by Sen. Patty Murray (D-WA) saying that it "makes me cringe."

RELATED: Paul Ryan Trashes Democratic Budget On Fox: Their Definition Of Balance 'Never, Ever Balances The Budget'
Holtz-Eakin urged his fellow panelists to "take the emotion out" of the argument over the trajectory of America's increasing debt. He said that the problem he has with the Democratic budget, beyond the fact that it is not clear about how it would raise $1 trillion in new tax revenues, is that it does not change the trajectory of America's increasing spending.
"That's a dangerous thing for the country, and its disservice, quite frankly, to the constituencies that presumably we're supposed to care about," Holtz-Eakin said. He said that it is critical to reform entitlements to preserve those programs for those who need them.
"You don't have to like Paul Ryan, so we're allowed to disagree on that, but you have to fix something," Holtz-Eakin added after saying that Wagner was "desperately wrong" on the issue of spending cuts.
"The idea that Paul Ryan wants to cut entitlements in order to save them is the same kind of reasoning as 'we need to destroy the village in order to save it," said Huffington Post reporter Ryan Grimm. "We don't believe that from Paul Ryan." He said that there is disagreement among economists about whether it would be a good thing to continue to borrow and spend more while interest rates are low.
"Let's have a debate about the changes, not whether we have them or not," Holtz-Eakin replied. "My problem with the Murray budget is it's about 'let's keep going.'"
He slammed the intellectual argument that says America can continue to take on debt in perpetuity because of its unique ability to carry debt. "I will die a happy death if I hear one of the people making that argument someday say 'cut now,' but they will never say that," Holtz-Eakin added. "There is always an excuse to not cut."
Holtz-Eakin took a shot at President Barack Obama who, he says, should be taking a more visible lead in forcing Congressional Democrats to come table with broader reforms to entitlement programs.
"I think it is ridiculous to put all of this on the shoulders of the president," Wagner shot back.
"He ran for the job," Holtz-Eakin said. "For God's sakes, do it."
He said that the Ryan budget is a "serious document" and it makes important reforms that all parties agree are necessary. "I consider it a very serious document because it is honest about what it does," Holtz-Eakin urged. "I'd be happy if Patty Murray put out a budget that has the same bottom line numbers that she has if she was transparent and honest about how she got there, but there are so many gimmicks in that budget that, as a former CBO guy, it makes me cringe."
"If you want to spend more, I think you're wrong, I think you endanger the country, but be honest about it," Holtz-Eakin concluded.
Watch the exchange below via MSNBC:
> >Follow Noah Rothman (@NoahCRothman) on Twitter
Have a tip we should know? tips@mediaite.com