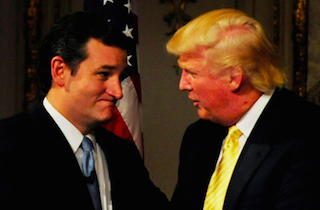 During the run-up to the 2012 presidential election, no one spoke more loudly and often about President Barack Obama's birth certificate than Donald Trump. Now, it appears he might do the same for Sen. Ted Cruz (R-TX).
In an interview with MyFoxNY following Cruz's big 2016 announcement Monday morning, Trump raised the issues surrounding the Canadian-born Cruz's citizenship, suggesting it might be a hurdle in reaching the Republican nomination for president.
"Well he's got, you know, a hurdle that nobody else seems to have at this moment," Trump said by phone. "It's a hurdle and somebody could certainly look at it very seriously." Noting that Cruz was born in Canada, Trump said, "you're supposed to be born in this country, so I just don't know how the courts would rule on it. But it's an additional hurdle that he has that no one else seems to have."
In August 2013, Cruz released his birth certificate in an attempt to quell any rumblings about his eligibility to run for president. While he was born in Alberta, Canada, his mother was a U.S. citizen, which means he got automatic citizenship as well.
It was around that same time that Trump first expressed his skepticism over Cruz's citizenship in an interview with ABC News' Jonathan Karl. "If he was born in Canada, then perhaps not," Trump said of Cruz's eligibility. "That will be ironed out. I don't know the circumstances. If he says he was born in Canada, that's his thing."
Of course, this all may be part of Trump's larger campaign strategy, because as he indicated last week, he's totally running for president his time.
Watch video below, via MyFoxNY:
[Photo via Sun Sentinel]
— —
>> Follow Matt Wilstein (@TheMattWilstein) on Twitter
Have a tip we should know? tips@mediaite.com