Eric Bolling Applies Logic Of Priorities USA Ad To Determine Obama Responsible For 593 Cancer Deaths
Bolling Applies Priorities USA Logic To Determine Obama Responsible For Cancer Deaths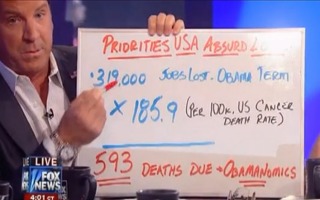 As Republicans were enjoying the moral high ground for close to eight hours following the release of a pro-Barack Obama Super PAC ad which goes to lengths to tie Mitt Romney to the cancer-related death of a steel plant worker, The Five's Eric Bolling promptly surrendered the GOP's claim to righteous and justifiable outrage. Bolling aptly criticized the Priorities USA ad as having defined "a new low" for President Obama and his supporters, but then went on to apply the same admittedly "absurd, ridiculous logic" to the economic policies of President Obama and determined that his administration could be held responsible for 593 deaths.

RELATED: Risky Obama PAC Ad Linking Romney To Steelworker's Wife's Death Highly Likely To Backfire
Using the famous white board, often utilized by Karl Rove when doing some quick "back of the envelope" math (a slight variation on Glenn Beck's chalk board), Bolling determined that "the death rate of cancer per 100,000 is 185.9" and therefore "593 deaths can be attributed to President Obama and Obamanomics."
Bolling went on again to say that such conclusion were ridiculous – and, indeed, they are. "That's a new low for your boards," observed Bob Beckel. It's hard not to agree.
Bolling, and to a lesser extent Greg Gutfeld who applied the logic of the Priorities ad to President Barack Obama's prosecution of the war on terror on foreign battle fields and determined that Obama had the blood of foreign civilians on his hands, are falling into a logical trap. By using the perverse, anything-goes logic of the Priorities ad to create their own bloody scenario in which Obama can be implicated, they do not just provide evidence that the Priorities ad is illogical and hurtful — they provide their opposition with sound bites.
The Priorities ad is beneath the Obama campaign and his supporters – Republicans have been handed a gift in this ad's overreach. What the Priorities ad does most effectively is to showcase just how hollow Democratic supporters' calls for civility really are.
But the best course for Republicans is one of quiet outrage. They should embrace a sober, moral indignation which reflects the confidence that history will vindicate the greatly aggrieved Romney and his supporters. The Priorities attack demands retribution and should be responded to, but not in kind with baseless charges that only invite still more unprincipled attacks.
At least one side in this debate has to behave like adults. For the moment, the President's supporters have abdicated that role. Republicans should not be so quick to surrender the newly won moral high ground.
Watch the segment below via Fox News Channel:
> >Follow Noah Rothman (@Noah_C_Rothman) on Twitter
Have a tip we should know? [email protected]