Eric Bolling Calls Out Ann Coulter For Criticizing GOP's Selection Of Most Right Wing Candidates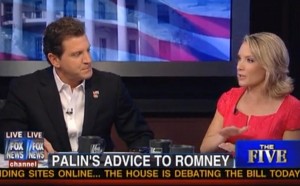 On Sean Hannity's show Tuesday night, Ann Coulter warned the GOP that they should be careful in who they select as the nominee, suggesting that Mitt Romney would ultimately be their best choice. "[Barack Obama]'s going to be tough to beat. The idea that we'll just pick the most right-wing candidate without any concern about who's going to win is suicidal for the Republican party."
Wednesday on The Five, Eric Bolling played the clip and began a nine-minute discussion that hit on everything from Coulter's irrelevance as a political commentator to Romney's ability to beat Obama next November. Dana Perino tried to convince everyone that Romney is an easily-embraceable candidate and could pull off a win in 2012, but her table-mates weren't having any of it, with the other four offering up everyone from Paul Ryan to Sarah Palin as better options.
Bob Beckel had the best line of the conversation, bashing Coulter for being a bit of a self-aggrandizing political soothsayer:
"Taking political advice from Ann Coulter is like taking weight control advice from me and Chris Christie," Beckel said. "That woman knows as much about politics as my retired senile aunt."
But the main thing to take away from here is the fissure between Bolling and Coulter, who usually sing the same note. With eight candidates and a rotating "new leader of the field" every month, is it really any surprise?
Enjoy the video of the entire conversation below, from The Five, courtesy of Fox News:
Have a tip we should know? tips@mediaite.com