Eric Bolling Calls Out Romney Campaign's Eric Fehrnstrom: 'Take A Vacation, Come Back November 7'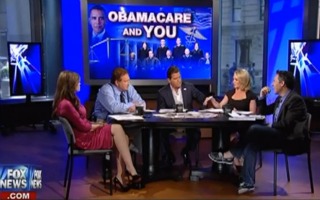 On Fox News Channel's The Five, co-host Eric Bolling took on senior campaign advisor for Mitt Romney, Eric Fehrnstrom, after he told MSNBC on Monday that the Romney campaign agrees with President Barack Obama that the individual mandate within the health care reform law is a tax. Bolling suggested that Fehrnstrom should "take a vacation" and return after the general election.

RELATED: Romney's Campaign Should Heed Advice To Clean House, Starting With Eric Fehrnstrom
Co-host Bob Beckel began the segment by defending Congressional Democrats. He said that the health care reform would have administered in the same way whether the mandate was been ruled by the Supreme Court to be a fine or a tax.
Bolling was asked by co-host Dana Perino "when is a tax not a tax," to which he responded "when the Supreme Court says the only way it passes is if we call it a tax."
"My problem is this," Bolling continued. "We're out here fighting – the conservatives are fighting – to call it what it is, a tax. And then Mitt Romney's guy, Eric Fehrnstrom comes out today and says 'it's not a tax.'"
"You know what, Eric," Bolling continued. "Do us all a favor – take a vacation, come back November 7 after the election because it's a tax."
"How about don't come back," said co-host Kimberly Guilfoyle.
Beckel challenged his fellow panelists because he says that at no point during the debate over health care reformation did conservatives call the mandate a tax. "They were saying it wasn't a tax," said co-host Greg Gutfeld. "We stupidly took them at their word. We thought maybe they weren't lying, or maybe they were competent. Turns out they were lying and incompetent."
Watch the segment below via Fox News Channel:
> >Follow Noah Rothman (@Noah_C_Rothman) on Twitter
Have a tip we should know? tips@mediaite.com