Eric Bolling Challenges Jon Huntsman On His Status As 'Darling Of The Democrats'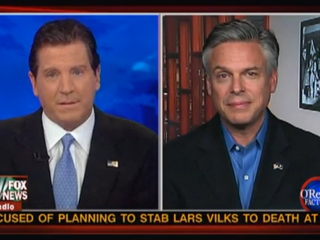 There aren't very many perks to being absolutely dead last in a pack of political candidates, but one thing Jon Huntsman can say for himself is that he hasn't really been vetted– or even challenged– in media appearances too harshly in the past. That changed somewhat today with his appearance on The O'Reilly Factor, where host Eric Bolling grilled him on his moderate views and why he thinks he can win a primary election.
RELATED: Funny Campaign Tidbit: No One Recognizes Poor Jon Huntsman In His DC Grocery Store
The interview opened up with Bill O'Reilly's chat with former President Bill Clinton, where he noted that he saw Huntsman's economic policy as possibly the most conservative on the field. Huntsman said that it was clear to him Clinton had "done his due diligence," and should he want to defect to the right, he would not oppose the former president joining them.
Bolling then asked, given the praise he was getting from Clinton and others, whether Huntsman believed that his status as "darling of the Democrats" is helping him or keeping him in the race. Huntsman responded by highlighting the most conservative aspects of his platform– full support for the Ryan budget plan, reduction of the deficit, and "talking about term limits for Congress until I get blue in the face."
Switching gears, Bolling them asked Huntsman what he would consider a good result in New Hampshire, where he was doing most of his campaigning. "What we have to do is beat market expectations," Huntsman replied. Following up, Bolling then asked what the strategy was in South Carolina, a particularly socially conservative state. "We've got a very good ground game in South Carolina," Huntsman replied, adding that "the rap against me has always been 'he can win the general election, can he win a primary?'" To this Bolling responded that it was justified based on his "centrist" views, from cap and trade to evolution. "Everything I learned there I learned from Tim Pawlenty and Mitt Romney," Huntsman replied, to which Bolling quipped, "they're not polling well among conservatives, either." The segment ended on a friendly note, with Bolling hoping Huntsman didn't mind the challenge.
The segment via Fox News below:

Have a tip we should know? tips@mediaite.com