Eric Bolling: Fox Guest Will Help Obama's Brother Legitimize Non-Profit Charity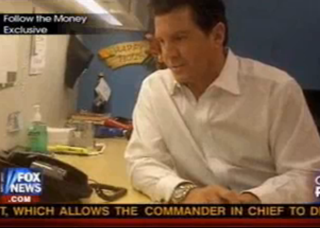 Fox Business host Eric Bolling may have begun his investigation into Abon'go Malik "Roy" Obama's charity organization expecting to bust some corruption, but after a 40-minute series of conversations with the President's brother, Bolling seems at least partially convinced that all the elder Obama needs to keep his charity in gear is a bit of organizational guidance.
Bolling began the investigation into the Kenyan "Barack H. Obama Organization" earlier this week, sensing that there was a possibility the organization's mission statement– to provide food and potable water to Kenyan villages– was not being lived up to. Having found that the organization made something within the vicinity of $250,000 but hadn't legally filed in America as a non-profit, Bolling called Abon'go Obama up on the phone and demanded answers. He told Martha McCallum (filling in for Greta van Susteren last night) that, while initially very defensive, the President's half-brother eventually softened up, and that Bolling himself was torn as to whether the operation he led eas of a corrupt nature.
"We talked about growing up with Barack, we talked about his father," Bolling explained, repeating what he had on his program, Follow the Money, that the elder Obama believed "America keeps calling [my mother] a prostitute," a claim Bolling still didn't really understand. Nonetheless, he noted that "the man was very open with me and forthcoming" and that in discussing the legal gray area surrounding his organization, Obama replied that he would file the form if someone helped him and that he wasn't even aware he had to do so. "If you help me, I will file it," Bolling said Obama told him, and that, in fact, one of the guests on his show offered to help.
While still not satisfied with the explanation, Bolling appeared much more willing to give the President's brother a pass on this one, or at least help him clear his name.
The segment via Fox News below:

Have a tip we should know? tips@mediaite.com