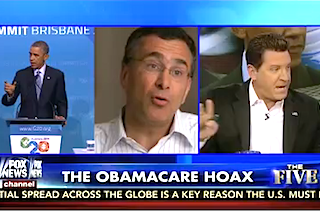 House Minority Leader Nancy Pelosi (D-CA) may have said that she doesn't know who Obamacare "architect" Jonathan Gruber is, but President Barack Obama has not gone so far as to deny his existence.
Instead, what the president actually said during a press conference this weekend was that his staff had just briefed him on the controversy surrounding various statements Gruber made on tape. He then tried to distance himself from the MIT professor, saying, "The fact that an adviser who was never on our staff expressed an opinion that I completely disagree with in terms of the voters is not a reflection on the actual process that was run."
But if you watched the opening segment of Fox News' The Five on Monday, you would think that Obama was pretending he had never heard of Gruber. "The president apparently gets well briefed because he watches ABC and NBC, but he fails to watch Fox, because if he had watched Fox, we would have told him about Gruber a really, really long time ago," Bolling said. He then listed off a series of "lies" the president has supposedly told about Obamacare, including, "I don't know who Gruber is."
"Do you think it's possible that the president didn't know about this and doesn't know who Gruber is, doesn't even remember him?" Dana Perino asked the panel. No, and that's not what the president was saying.
"I'm beginning to feel really bad for Gruber, because he might need some serious therapy when you think about the fact that he's met all of these people, everybody he's met 20 times and nobody remembers him," Greg Gutfeld chimed in later. "That's got to be hell on your self-esteem, that nobody knows who you are."
Throughout the rest of the segment, Bolling kept repeating the idea that Obama literally does not know who Gruber is. He even refers to another video that emerged this week, this time from 2006, in which Obama references Gruber by name as someone he has "stolen ideas from liberally."
As more and more damning statements from Gruber emerge, no Democrat would deny that members of the Obama administration are actively trying to distance themselves from the man. But to suggest that President Obama claims not to even know who he is just isn't accurate.
However, Bolling's comment about Obama not being able to miss the controversy surrounding Gruber had he been watching Fox News is dead on. According to a TVEyes transcript search of the last seven days, the name "Gruber" was mentioned 20 times on CNN and 28 times on MSNBC. On Fox, Gruber's name was uttered — often with contempt — a total of 336 times.
The fact that Obama was not consumed with angst over the Gruber story while on his Asia trip is a pretty good indication that he wasn't watching Fox on Air Force One.
Watch video below, via Fox News:
[Photo via screengrab]
— —
>> Follow Matt Wilstein (@TheMattWilstein) on Twitter
Have a tip we should know? tips@mediaite.com