Eric Bolling Spins Poll On Whether Americans Are Better Off Now Than Four Years Ago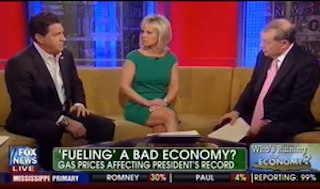 Appearing on Fox and Friends Wednesday morning, Eric Bolling gave a curious analysis of a CBS/NYT poll asking Americans whether their family's financial situation was better today, worse today, or about the same.
In the poll, only 20% of Americans felt their financial situation was better today than it was four years ago. 37% say it is worse, and 43% say it is about the same.
Pretty bad numbers, for sure — but overwhelmingly catastrophic numbers?
RELATED: Fox & Friends Blame High Gas Prices On Obama, Slam His 'Failed Green Energy Policies'
Fox Business's Stuart Varney had just explained that food inflation was beginning to skyrocket. "If you look at the food price inflation and then throw in gas prices that have gone straight up, you got a nasty inflation bite out of your wallet," Varney observed.
"Maybe people are feeling that inside of their soul," said host Gretchen Carlson. "Because when they were asked this question in a poll compared to four years ago, is your family's financial situation better or worse off? Only 20% said better. 37% said worse."
"Isn't that the Ronald Reagan question to Jimmy Carter back in the late 1970s, 1980s?" Varney asked. "Are you better off now than you were four years ago? If you asked that question today, you get a very similar answer. 37% say we're worse off."
"80% are not better off than they were!" Bolling extrapolated.
"That's right — 80% are not better off," Varney enthusiastically agreed. "The other way around of looking at it."
Er–well, 43% reported no change, which, if your family's economic situation was outstanding, great or merely good in "about the same" way, you wouldn't report that it had gotten better, right?
So for Bolling to interject that 80% of the country is not better off than four years ago — while technically true — seems a bit of a stretch, particularly given that 'not better' doesn't mean 'worse off.'
Watch the segment below, via Fox News:

Have a tip we should know? tips@mediaite.com