Eric Bolling's The Five Co-Hosts Brutally Mock His Offer To Pay For White House Tours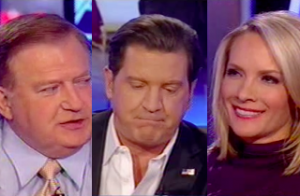 If Fox News' Eric Bolling thought he was going to get support from his co-hosts on The Five for his offer to pay for canceled White House tours Friday afternoon, he had another thing coming. The four other members of the panel unanimously and relentlessly made fun of Bolling's offer, saying it wasn't exactly a realistic solution to the sequester budget cuts.
Bolling explained at the top of the segment that he had reached out to Press Secretary Jay Carney about how to fulfill his offer to help fund the White House tours that have been put in hold since the sequester and all he's heard are crickets.
Bob Beckel immediately jumped into the fray, telling Bolling that he'll "put ten bucks" in for the cause. Later he asked Bolling if he thought the White House would respond, "Yes, Mr. Bolling, you've been such a strong supporter of ours, and we really appreciate you doing this."
When Andrea Tantaros tried to steer the conversation towards the broader budget issues at the White House, Bolling wasn't having it. He asked Dana Perino, a former press secretary for President George W. Bush, why she thought the White House press office wasn't getting back to him.
"Did they say 'who is Eric Bolling, I've never heard of him in my life?'" Perino joked. Bolling insisted that they must know about his offer, especially after Sean Hannity jumped on board. Calling Bolling's offer a "petty political maneuver," Perino said that if she were them, she would not have responded either.
Finally, Greg Gutfeld jumped in, saying to Bolling, "I don't have the kind of wealth to ostentatiously display on TV, but I am willing to offer summer tours of my apartment."
An exasperated Bolling exclaimed, "Wow, it sounds like you guys are defending Obama!" He then played some testimonials of kids saying how much they enjoyed their White House tours and said, "You guys can make fun of it, but I think it's bad."
Perino dug the knife in a little bit further by responding, "We're not making fun of it," referring to the tour cancellations. She didn't say the second part of the sentence, but it was implied: We're making fun of you.
Watch video below, via Fox News:
—
>> Follow Matt Wilstein (@TheMattWilstein) on Twitter
Have a tip we should know? [email protected]