Eric Cantor On Sen. Feinstein's 'Cory Bookering:' Obama Admin Tries 'To Beat Folks Back To Submission'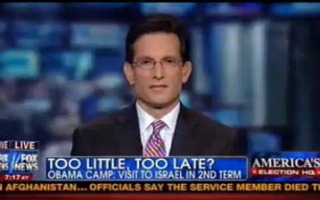 House Majority Leader Eric Cantor made an appearance on Wednesday's Fox & Friends, where he touched upon a couple of topics, including both candidates' vows to visit Israel, with the President's people saying he plans to visit the Holy Land in his second term, and whether Senator Dianne Feinstein was "Cory Bookered" by Democrats after making remarks about White House intelligence leaks.
"First of all," said Cantor, "I'd say it's about time on the President's behalf. But really, it's about three and a half years too late." He added that there has "been a real cloud, I think, put out by the White House over the relationship that this President has with Israel." He guessed that Romney's trip to the UK and Poland we'll reveal that there exists a wariness over the "direction of America's leadership."
RELATED: John Sununu To Hannity: Feinstein 'Got Cory Bookered' After Comment On White House Leaks
Host Steve Doocy noted a drop in Jewish voters' support for the President compared to about four years ago. "Right now he stands at 64 percent versus 74 percent, so he slid about 10 percent," he pointed out, looking at Gallup poll results. Doocy then noted that Mitt Romney yesterday accused the President of "lecturing Israel's leaders."
"Well, there's no question that we have seen again repeatedly that kind of reaction from the White House towards Israelis and their government and, you know, they don't need lecturing," Cantor responded. "I think what an ally like that needs is American leadership. And I know that Mitt Romney is going to take this trip abroad to listen, to learn and really, I think, to underscore the American posture which the best strategy for peace is through a secure and strong America that leads."
Shifting the topic, Doocy brought up California's Senator Feinstein. "She said regarding these national security leaks, it looks to her like they're coming from the White House," he said. "That was Monday. Then on Tuesday, she walked it back and said, 'yeah, I shouldn't have been speculating. What happened? The RNC says she was 'Cory Bookered.' What do you think?"
You know, Senator Feinstein has always been a very upstanding individual who has led on many issues on her state of California and in the intelligence arena, and I think that she reacted initially in the way that her abilities and capabilities saw. I mean, she saw some indication to think that there was some politicalization of things that the White House knew for political gain. And, you know, there was an issue raised there and a repeated pattern that we have seen, as you suggest, with Cory Booker and others. When the administration sees individuals that disagreed with it and them, they go hard out at trying to beat folks back to submission as to not have anybody out of line. And I think that speaks, I think, a lot to, perhaps, a lack of confidence that exists there.
Have a look, via Fox News:
Have a tip we should know? tips@mediaite.com