Eric Holder Blasts Rep. Darrell Issa For 'Unacceptable,' 'Shameful' Conduct During House Grilling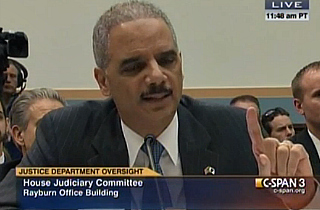 During a House Judiciary Committee hearing this afternoon, Rep. Darrell Issa (R-CA) grilled Attorney General Eric Holder over whether his office plans to turn over potential evidence of alleged violations of the Federal Records Act by President Obama's new Labor Secretary nominee, former Assistant Attorney General Thomas Perez. The resultant exchange was a tense one, with Holder calling Issa's behavior "shameful."

Asked whether his office will comply with a bipartisan group of House members seeking the remaining private emails from Perez allegedly leaking non-public information, Holder told Issa: "It's not something that I have personally been involved in, but I will look at the request and try and be as responsive as we can."
The congressman responded that he and his colleagues have only seen the "to and froms" of the Perez emails, as opposed to the actual contents, and that this was likely a result of the Justice Department not wanting Issa and his colleagues to see the details.
"No, no," Holder replied with an irritated tone. "That's what you typically do. No, I'm not going to stop talking now. You characterized as something those [inaudible] of the people in the Justice Department. That is inappropriate and is too consistent with the way in which you conduct yourself as a member of Congress."
Issa attempted to interrupt by asking the committee chairman to "inform the witness as to the rules of this committee," i.e., tell him to refrain from talking while the House member has the time.
"It is unacceptable and it's shameful," Holder concluded of Issa's conduct.
Watch below, via C-SPAN 3:
— —
>> Follow Andrew Kirell (@AndrewKirell) on Twitter
Have a tip we should know? tips@mediaite.com