Eric Holder Responds To Contempt Vote: 'Regrettable Culmination' Of A 'Politically-Motivated Investigation'
Eric Holder Responds To Contempt Vote...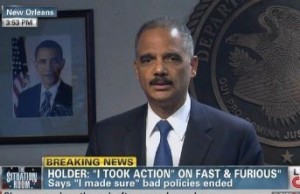 Speaking Thursday afternoon from New Orleans, Attorney General Eric Holder offered his response to having been held in contempt.
RELATED: Atty Gen. Eric Holder Held In Contempt Of Congress, Democrats Walk Out Of Vote
"Today's vote," said Holder, "is the regrettable culmination of what became a misguided and politically-motivated investigation during an election year. By advancing it over the past year and a half, Congressman Issa and others have focused on politics over public safety." Holder said that he and the Department of Justice have remained focused on ensuring the safety of Americans throughout, while Issa and others ultimately worked to distract from this.
"When concerns about operation 'Fast & Furious' first came out, I took action," he said, "and ordered an independent investigation into what happened. We learned that the flawed tactics used in this operation began in a previous administration. But I made sure that they ended in this one."
After listing his responses to learning of the gun-running operation's flaws and failings, Holder noted that "any suggestion to the contrary is simply not consistent with the facts." He then called the charges against him "reckless" and "unsupported by fact," and described them as "truly absurd conspiracy theories."
"Today's vote may make for good political theater in the minds of some," he continued, "but it is at base both a crass effort and a grave disservice to the American people. They expect and they deserve far more."
He concluded by pledging to do his work despite the complications ahead.
Have a look at his speech, via CNN:
Have a tip we should know? tips@mediaite.com